There you go, Grammarly. I made you happy now, haven't I? Yes, I removed the Comma. It looks weird to not say "January, 2023" but I guess it has always been wrong and now I don't have to double-check if the naming convention is right.
Yes, hello, it's-a me, Magi-o… and this month's Choice has little to do with Mario but I'm on a roll here… and this month is really good… if you wanna be on the roll… Uh… that was an awkward segway… I mean, segways are hard… but what isn't hard… is saying yes to this month's Choice (GOT 'EM!) as you'll be able to slay, shred and survive in 2023 a lot better by taking a look at this selection of games.
OKAY, I'LL STOP.
I know some people only read these posts, so happy new year to you if you haven't read the New-Year posts I wrote… I don't blame you. This month will be rad – and it seems that we're off to a good start with this month's Choice.
| Rank | Game | Developer | Genres |
| --- | --- | --- | --- |
| 1 | DOOM Eternal | ID Software | Action, FPS, Boomer-Shooter |
| 1 | OlliOlli World – Rad Edition | Roll7 | 2D, Sports, Simulation |
| 2 | Tribes of Midgard | Norsfell | Co-Op, Roguelike, Survival |
| 2 | Grow: Song of the Evertree | Prideful Sloth | Adventure, Simulation, Life Sim |
| 3 | The Serpent Rogue | Sengi Games | Action-Adventure, Sandbox |
| 4 | Encased: A Sci-Fi Post-Apocalyptic RPG | Dark Crystal Games | Turn-Based, Sci-Fi, Tactical, RPG |
| 5 | Hokko Life | Wonderscope | Farming Sim, Life Sim, RPG |
| 8 | Conan Chop Chop | Mighty Kingdom | Party Game, Co-Op, Action, Roguelite |
(Ranking)
So, right off the bat: I decided to stop doing the "link to coverage" stuff because it looks bad when I forget to link to it later on and generally, I forget a lot and don't typically go back into posts and change much in hindsight if that makes sense. I'll still link to stuff if available but I'll do it in the paragraphs that follow. I think that's just more feasible.
Anyway, this month's bundle offers about 200€ worth of games for the low, low price of 12 bucks (roughly). It's worth it for sure… although I'd say that that's really just based on how you look at it. Each month has been worth in terms of games… always… it's not really that much of a point to mention… but like DOOM Eternal's Standard Edition costs 40€ on its own… so yeah.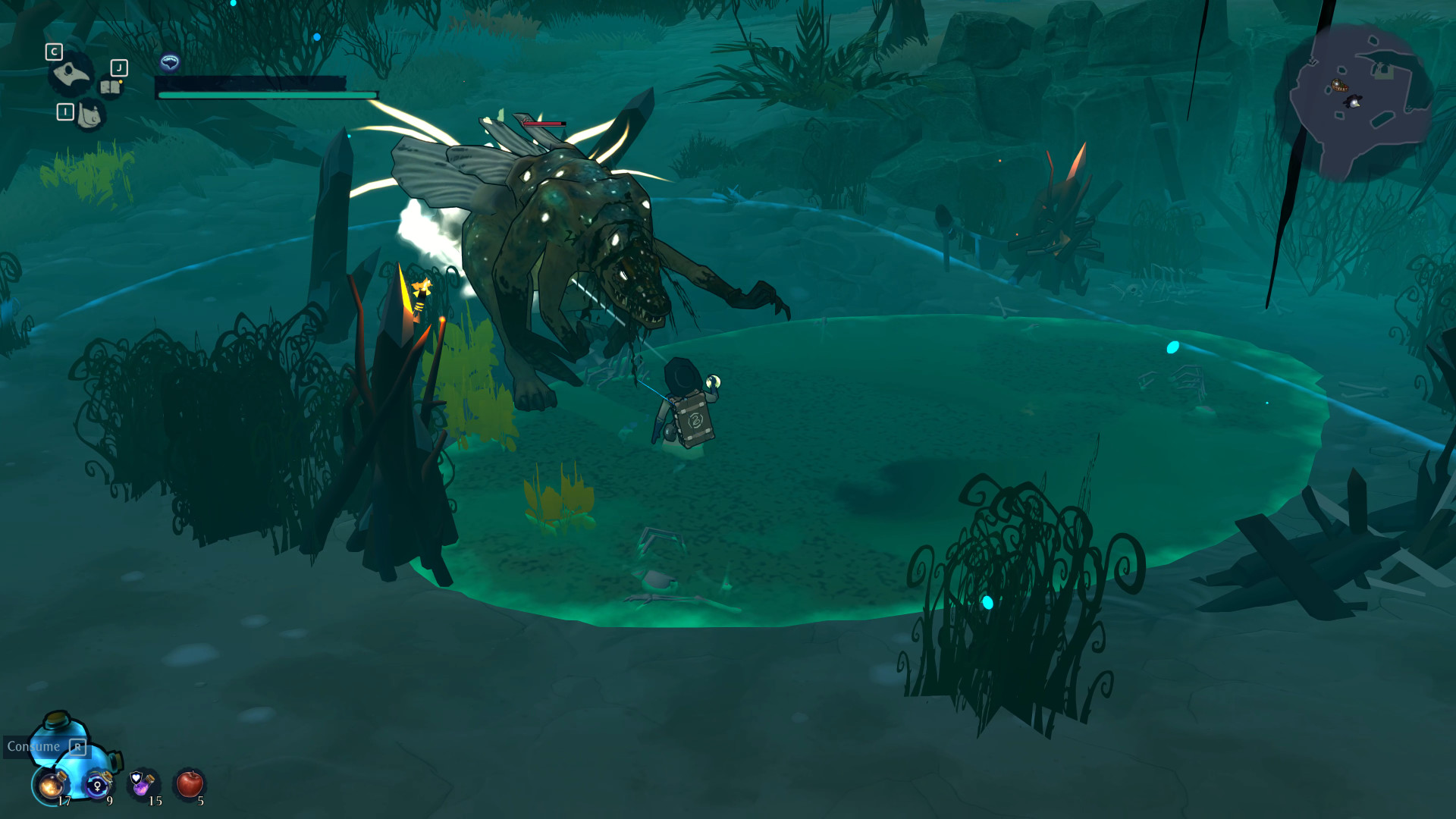 Screenshot: Serpent Rogue
Hokko Life looks like something I'd play but I find the character design to be a bit too uncanny and not to my liking. I just don't feel comfortable with it.
Conan Chop Chop leans into this sort of art style, too, but I decided to put it even lower despite being a Roguelite as it's a broken mess according to a good chunk of Steam reviews.
Encased looks interesting but I'm not really too much into turn-based RPGs, especially when they're tactical if that makes sense. Most tactics games get me attached to people and then they die and then I quit. I'm not sure if Encased is that kind of game… it sort of looks like it… It may be a great addition for later when I'm really into turn-based RPGs again!
Now, onto the good stuff! The Serpent Rogue looks amazing. I like the art style a lot… also, it's about botany which is a plus… but reviews appear to be brutal, so I may have to be careful before I get too hyped for it… but I remember being very excited about this game back in March and April and I just never played it when it came out because the new semester just started. So, it's nice to see that it's finally on Choice.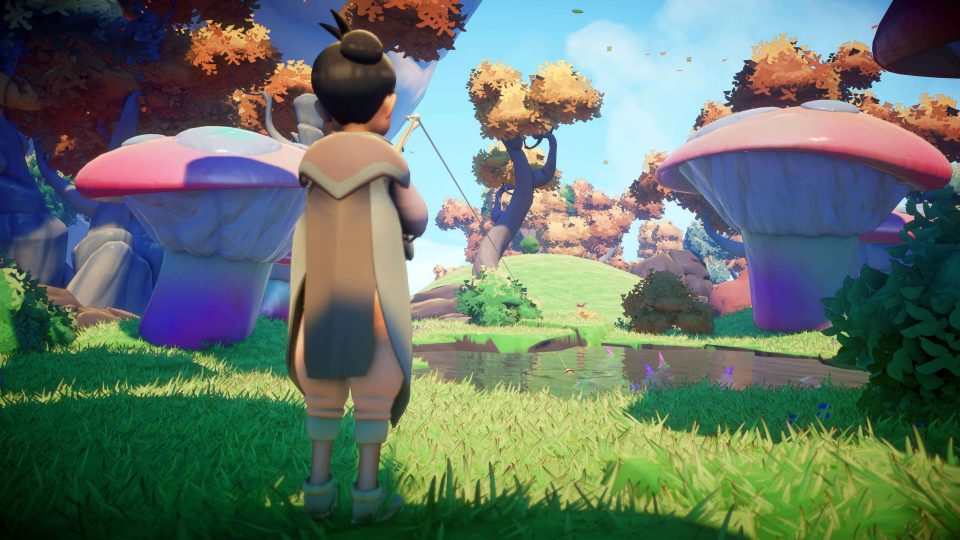 Screenshot: Grow: Song of Evertree
Ever since Krikket wrote about it, I've been quite excited about playing Grow but I wanted to wait until it's on sale. So, I wishlisted it… during the Christmas Sale, I thought about grabbing it… but I ended up not doing that after all and now it's here. Basically, Grow: Song of the Evertree is incredibly cute… and very chill… so… I wanted to play it. That's all. I don't want to spoil what Krikket has to say about the game because I basically only really am interested in this game because it looks cute and chill and because Krikket (who has a great taste in games!) is into it.
During the Summer Game Fest, Tribes of Midgard looked super cool and the idea of a Survival-Roguelike sounds incredibly cool, especially if you consider my love for The Flame In The Flood. The idea of playing it together with others is also nice… and honestly, I was quite excited about this game but then I just forgot about it… and now I'm excited to play it again, especially as a lot of my friends own it already! I just hope that it's playable in singleplayer, too… because timezones suck.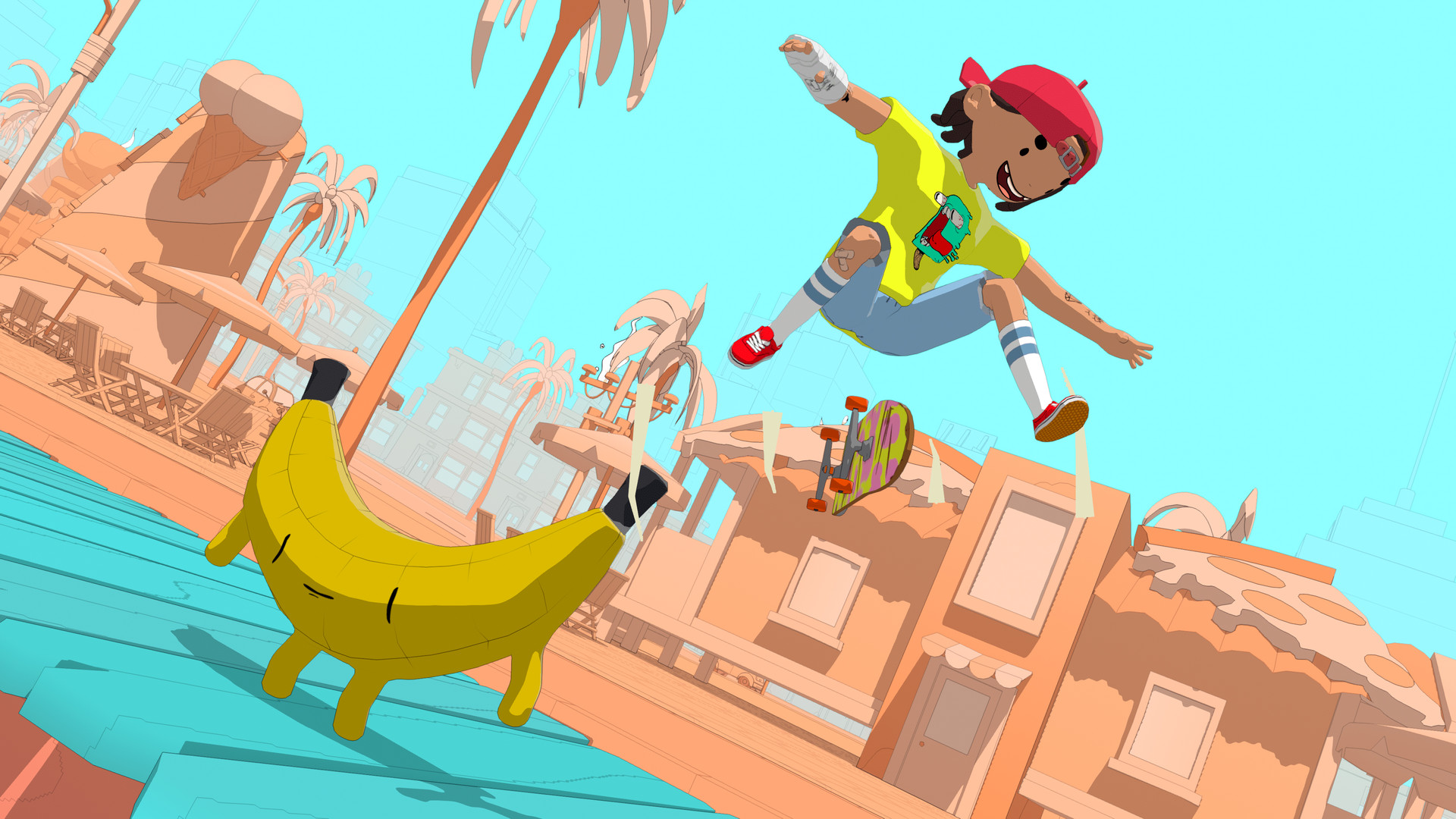 Screenshot: OlliOlli World
And last but certainly not least, I already own DOOM Eternal, so you can read on my thoughts of that game over here,… but it's great. Since I already own it, though, I decided to put OlliOlli World on the first spot as well… because I'm genuinely excited to play it. I know, it's a platformer… but it reminds me of JetSetRadio, so I kinda wanna play it… and it looked super chill and cute from what I've seen… and I've just gotten super excited about it last year in February, and then forgot to ever buy it because money was quite tight in 2022… Excited that it's here.
Overall, I'm really excited about this month. I only own DOOM Eternal out of the games here and I'm looking forward to playing a bunch of these titles, especially since many of them have been chilling on my wishlist for so long.
2023 is off to a great start!
This post was first published on Indiecator by Dan Indiecator aka MagiWasTaken. If you like what you see here and want to see more, you can check me out on Twitch and YouTube as well. If you find this post on a website other than Indiecator.org, please write an e-mail to me. Thank you!