In today's Indietail, we're looking at a short relaxing eco-system-management-game that is called Among Ripples. In this game, we control a pond's ecosystem by adjusting the oxygen levels of the water, adding new creatures into the pond and seeing what happens.
Developer: Eat Create Sleep
Publisher: Eat Create Sleep
Genres: Free to Play, Casual, Simulation, Relaxing, Indie
Release Date: January 22, 2015
Reviewed on: PC
Available on: PC
Game is available on steam for free.
In the game, you spawn in Dace fish by clicking the spawning grounds in the middle of the lake bed, Perch fish by clicking on the spawning grounds on the left of the pond, Clams by clicking on the right spawning ground on the lake bed, Crayfish by clicking on the left spawning ground on the lake bed, Pike fish by clicking on the right spawning grounds, and finally the otter by clicking on the left reeds at the surface of the lake.
There's a limit to how much you can spawn in at the same time. Once reached, you'll have to wait until they either grow or die. While this is somewhat realistic as an eco-system cannot sustain itself if there are too many of just one species, I thought of it as rather bothersome as you couldn't mess with the pond's system by filling it all with just clams or just lobsters. That was kind of a let-down, to be honest.
By clicking and dragging the mouse to the left or the right, you can adjust the oxygen levels which affect algae growth but also affects each creature differently. Algae is the foundation of the food chain as the smallest fish usually feast on it while bigger fish feast one the smaller ones and so on. Oxygen levels also affect the life-span of the different species, although the otter seems to only be able to starve to death. He can't suffocate as he's never swimming to the surface and that's just a bummer, I'd say. Of course, I find otters cute, and of course, I don't want them to die but more or less I would have wanted some sort of realism. Otters that can't find food migrate, for instance, and mammals that don't have air, try to get it if that makes sense.
There is also some pollution in the lake, which is why you need to spawn in some clams here and there so that they can clear or rather filter the water. Clams seem to not like high oxygen-levels and are usually eaten by lobsters. Lobsters on the other hand also keep the ground clean as the dying fish create pollution of their own. It's rather interesting to see these connections and to find out more about these animals, but I'm not too sure about the accuracy of these and honestly, I don't care enough to research about it myself. Instead, it would have been quite nice if there was a toggle-able tooltip that explains what's happening or what the different creatures do or what they like. Maybe it could have been some facts from different sources so that you learn more about these animals. Maybe there could have been a scientist-log where you discover different habits of the creatures.
For a simulation or a sandbox type, your options are rather limited in this game. You can't spawn in too many creatures, you cannot speed up the game, you cannot spawn in any food of sorts to artificially grow columns of fishes or kill off the otter who's eating everyone and everything. You cannot change the water temperature or add and remove plants from the pond. Instead, you're given the task to "watch" the eco-system and "spawn creatures to see what happens" but there's not much else to the gameplay, which is a bummer.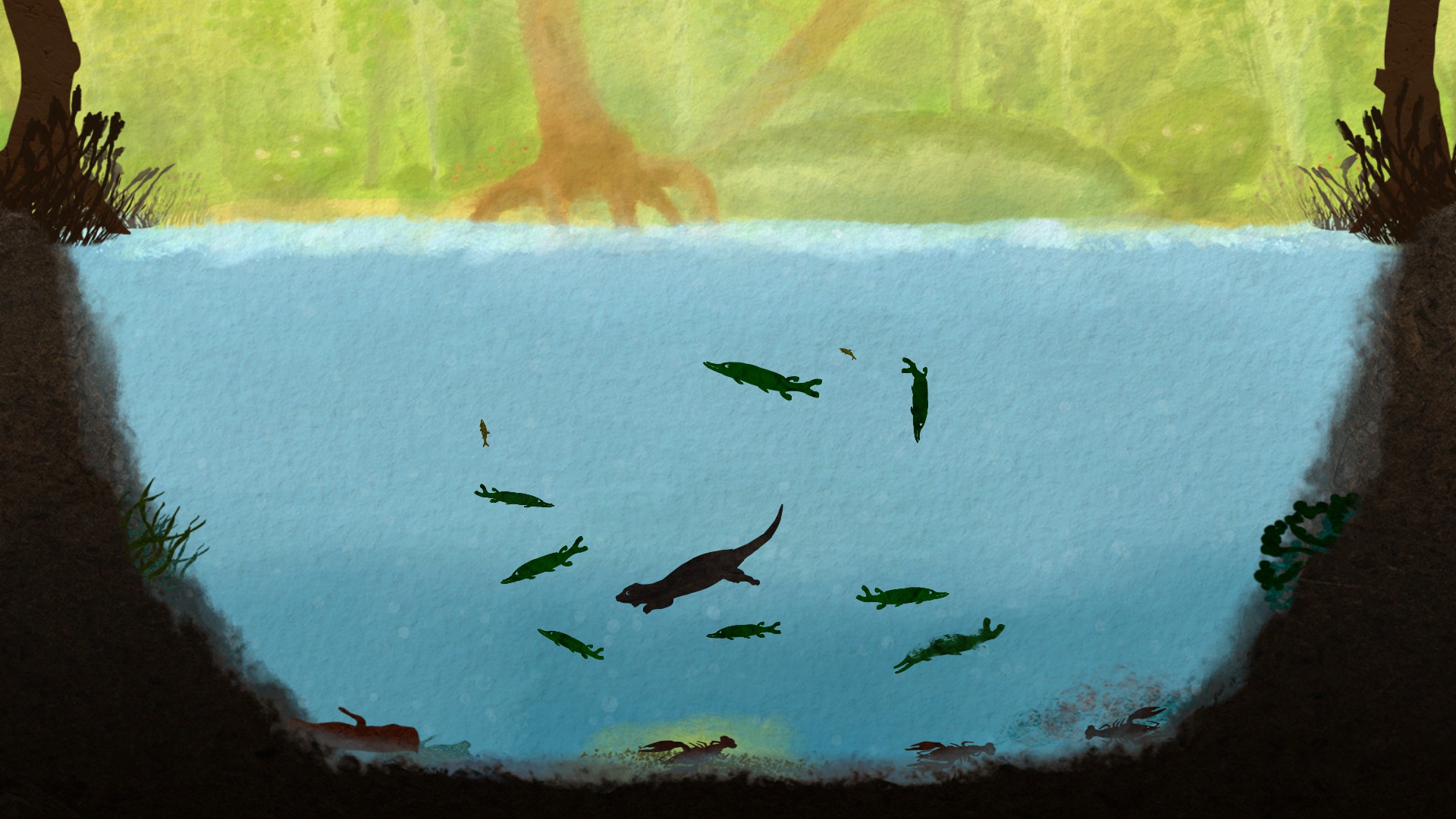 Other than that, the graphics are fine. Changing the settings doesn't do much for you and doesn't drop the framerate at all. The creatures and the environment are really pretty and seem to be hand-drawn which I applaud a lot.
The music is quite serene and fitting for the game. The devs promise a soundtrack that changes with the different seasons but there really isn't much to it. The seasons aren't noticeable at all and the music doesn't change much. It's more or less the same music but looped for the whole game. After listening to the same song for an hour, I can't seem to get it out of my head, though that's a bad thing in this case.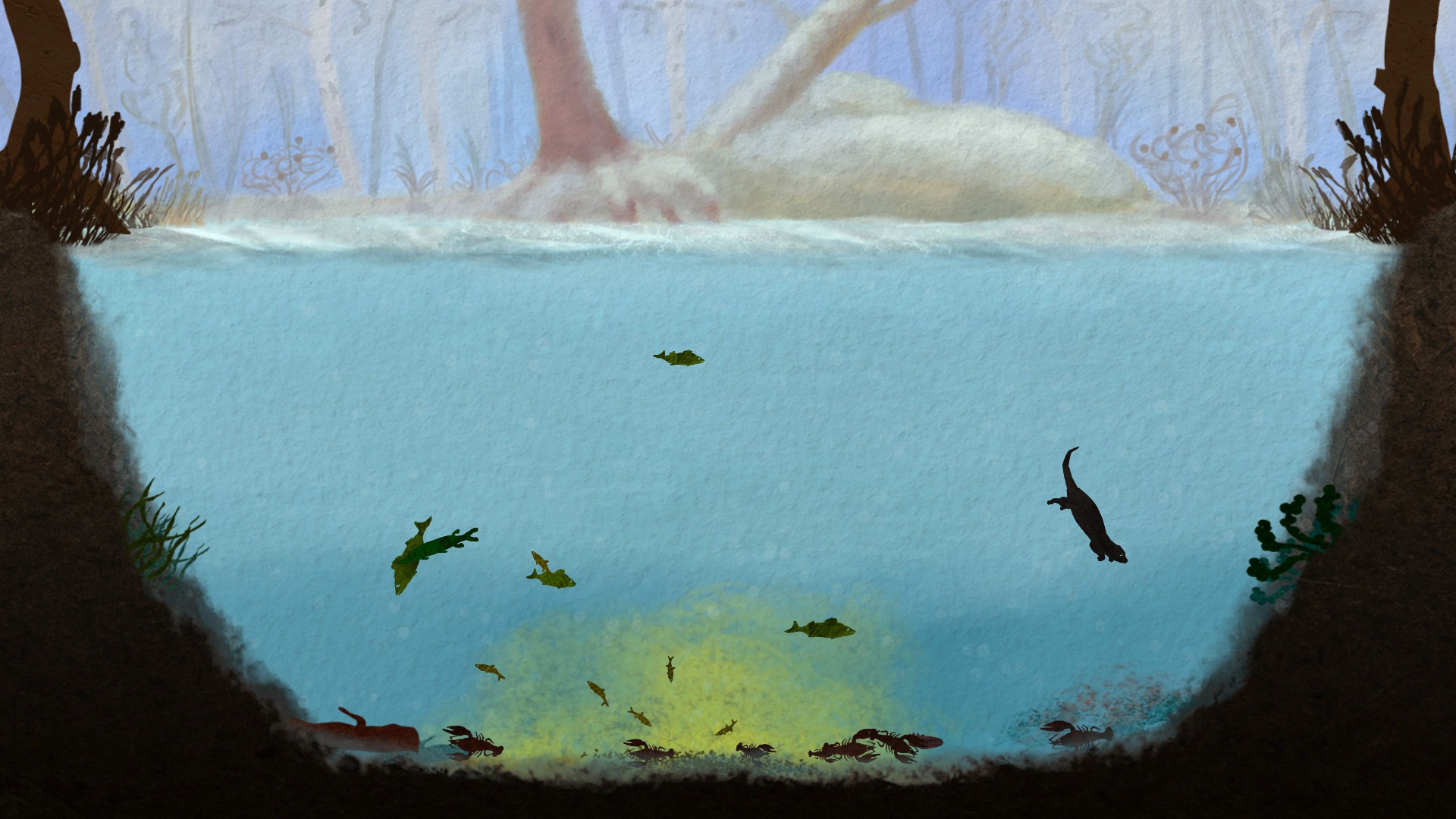 I think that Among Ripples is a game that you start for a few minutes, play around a bit, and then drop and uninstall later again. It's free on steam and quite interesting at first but loses its replay-value eventually, which is a bummer. I think it's worth trying out even though I don't think that it's to everyone's liking. I played an hour of it in hope that the gameplay or my understanding of it gets changed dramatically as time passes but it honestly was more of a letdown, so while I reckon that it's worth checking out (it's free after all), I don't really recommend it as there isn't much to it.
As a side note, the Kickstarter campaign for Among Ripples: Shallow Waters has just started on the last Tuesday and seems to be quite promising. It looks like more of a Tycoon-type of game where you add plants and rocks to the pond, change the terrain, and work with other scientists in-game to rehabilitate lakes that have died out, have been polluted or even destroyed. You create families of fish and can spectate them in third-person. You will be able to research more tools and other species during the story-campaign for your mobile research-base.
While this first game seems to be more of a relaxing experiment, the second game seems to be a lot more ambitious and it's actually something that I'd like to play.
Anyways, that's it for today's review. I hope you enjoyed this little dive into the pond. Check out the Kickstarter campaign if you want to or even support if you can spare a buck or two.
Cheers!
This post was first published on Indiecator by Dan Indiecator aka MagiWasTaken. If you like what you see here and want to see more, you can check me out on Twitch and YouTube as well.