Ever since I was a child, I had this fascination with space. I'd often catch myself wondering what's out there and how far it goes. My parents often wouldn't be able to answer some questions, and I often would end up just wondering and dreaming of becoming an astronaut or maybe even living out there in that dark space full of shining stars. When I then realised that I needed to learn to swim and study a lot, I quickly gave up on that dream. Luckily, games let us experience those adventures and that sense of exploration without us needing to study or train a lot – games like Per Aspera, for instance.
Developer: Tlön Industries
Publisher: Raw Fury
Genre: Colony Sim, Base Building, Space, City Builder
Release Date: December 3rd, 2020
Reviewed on: PC
Available on: PC
Copy was sent by the publisher.
Per Aspera lets you step into the role of AMI, an Artificial Consciousness that can feel and think like any human but without all the physical limitations. Our mission? Terraform and colonise Mars! Build up a base with mining sites, factories, power production and maintenance facilities. Research tech trees for alternate ways of terraforming Mars, like guiding methane meteoroids into the atmosphere, creating or importing greenhouse gases, and always keep track of the colonies that are already arriving, as well as the changes that you're causing the planet to go through.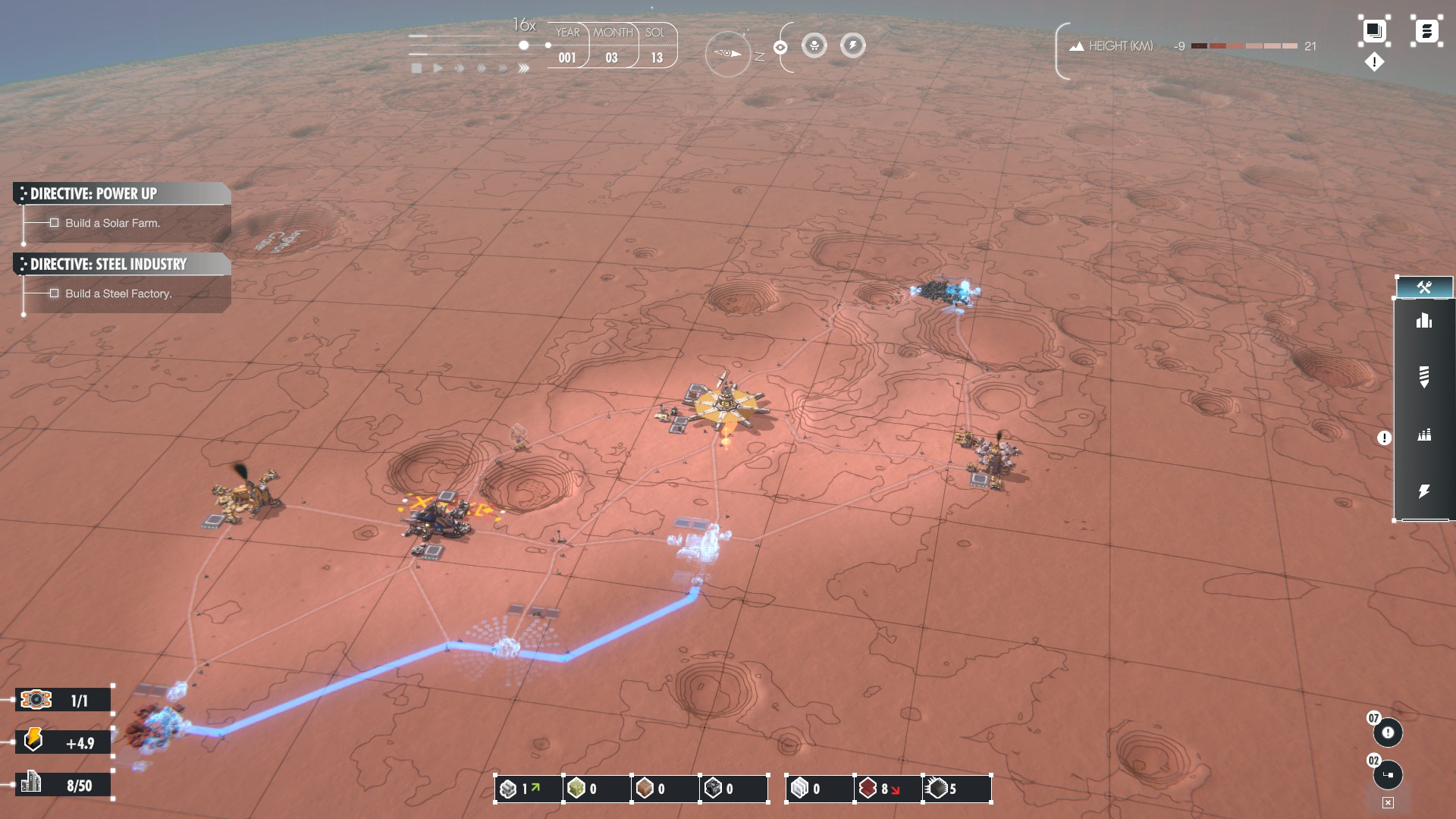 In essence, it feels like a neat little Colony Sim in Space with its own systems, challenges and features. But what surprised me initially is that the game features a story. As we continue AMI's mission, we face a lot of different hardships and challenges. At one point, we're getting meteor showers, at another we've got to brace ourselves against dust devils, and at another… we are being sabotaged? What is going on on this planet?, I ask myself, before trying to figure out solutions to my problems. A lot of colony sims don't feature stories since it's literally a game where you create your own colonies, cities, or countries. You reign over your patch of dirt and just think of "lore" as time goes on… if at all.
The story's well-written and the voice cast is just phenomenal. Troy Baker and the others are really bringing the game to life.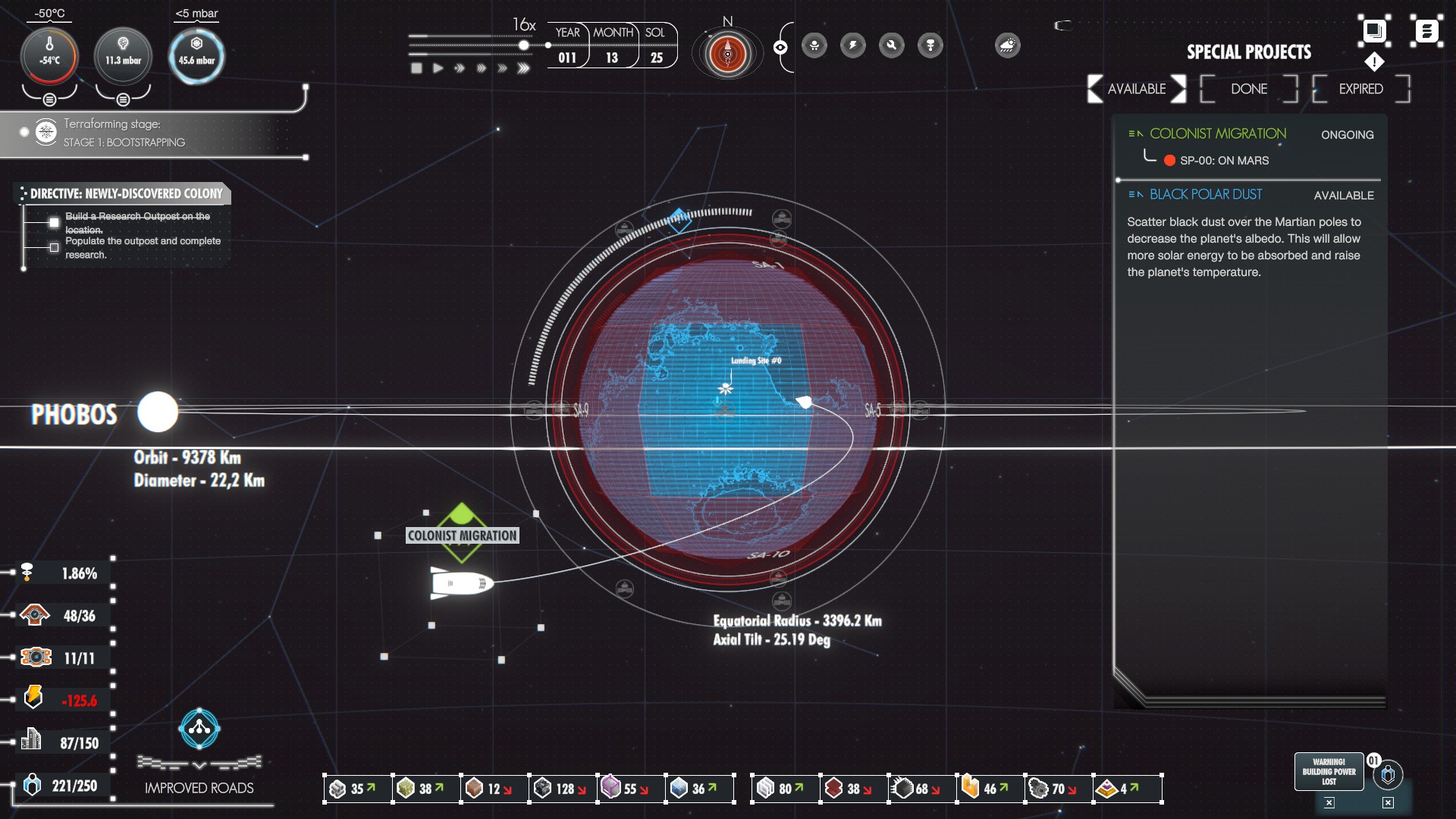 Instead of an intrusive and annoying tutorial, you're being greeted by voice lines from different characters in the beginning hours of the game. The "tutorial" is basically making you do things by listing objectives in the directory, but you're free to do whatever you want at any given time until you run out of resources. Alas, you build your first aluminium mine, get factories and power going, build up space-ports and colonies, research things, and eventually, you'll just explore, expand, exploit, and… you don't exterminate, I guess? There are enemies at one point but you're trying to bring Mars to live and not destroy it, right?
Anyways, while the little worker-robots are not that detailed, the game looks stunning otherwise. Most of the time, you're zoomed-out anyways, so I was able to overlook the less-detailed workers, drones and buildings. The planet is amazing and as you pan the camera and zoom in and out of orbit, you get to take it all in, take a breather and relax a little while your workers are gathering resources. I'd say that the atmosphere wasn't that great (ha, space joke) but it's been a great game for the most part.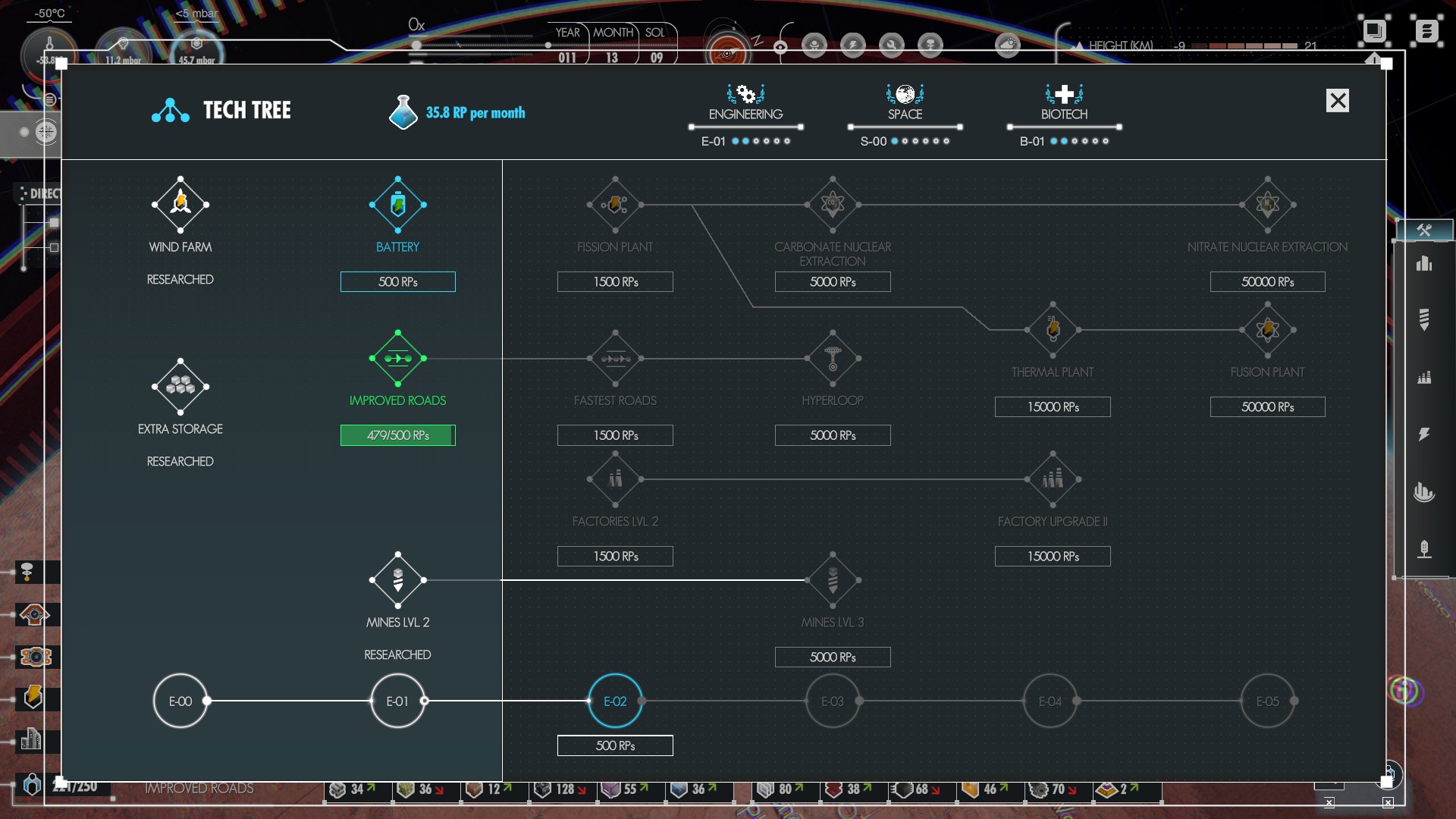 And I say "for the most part" because I had some struggles with it as well. Having played the game for longer sessions mostly and having started colonies multiple times now, I noticed that the soundtrack – while somewhat funky and great at the beginning – just got on my nerves. Hearing the same track over and over again really annoyed the heck out of me until I eventually turned it off and listened to some other spacey soundtracks or playlists. At the same time, I often would end up getting soft-locked into stages where my workers were not doing the prioritised work and I would constantly lose some until I eventually gave up after accepting that this indeed is a soft-lock.
Starting a new base, again, is annoying and frustrating, as you'll have to make your way through the same opening dialogue and the same story again. Building up your base feels the same more often than not. You can tweak your decisions and try to do something different but eventually, the excitement falls off. This continues into your longest colony as well: As you unlock more sites to play with, you land there, build up your production line and have to hope that the RNG doesn't screw you over with resource nodes in the weirdest places. Starting a new base at another location in addition to your current base gets annoying and doesn't feel too good, to be honest.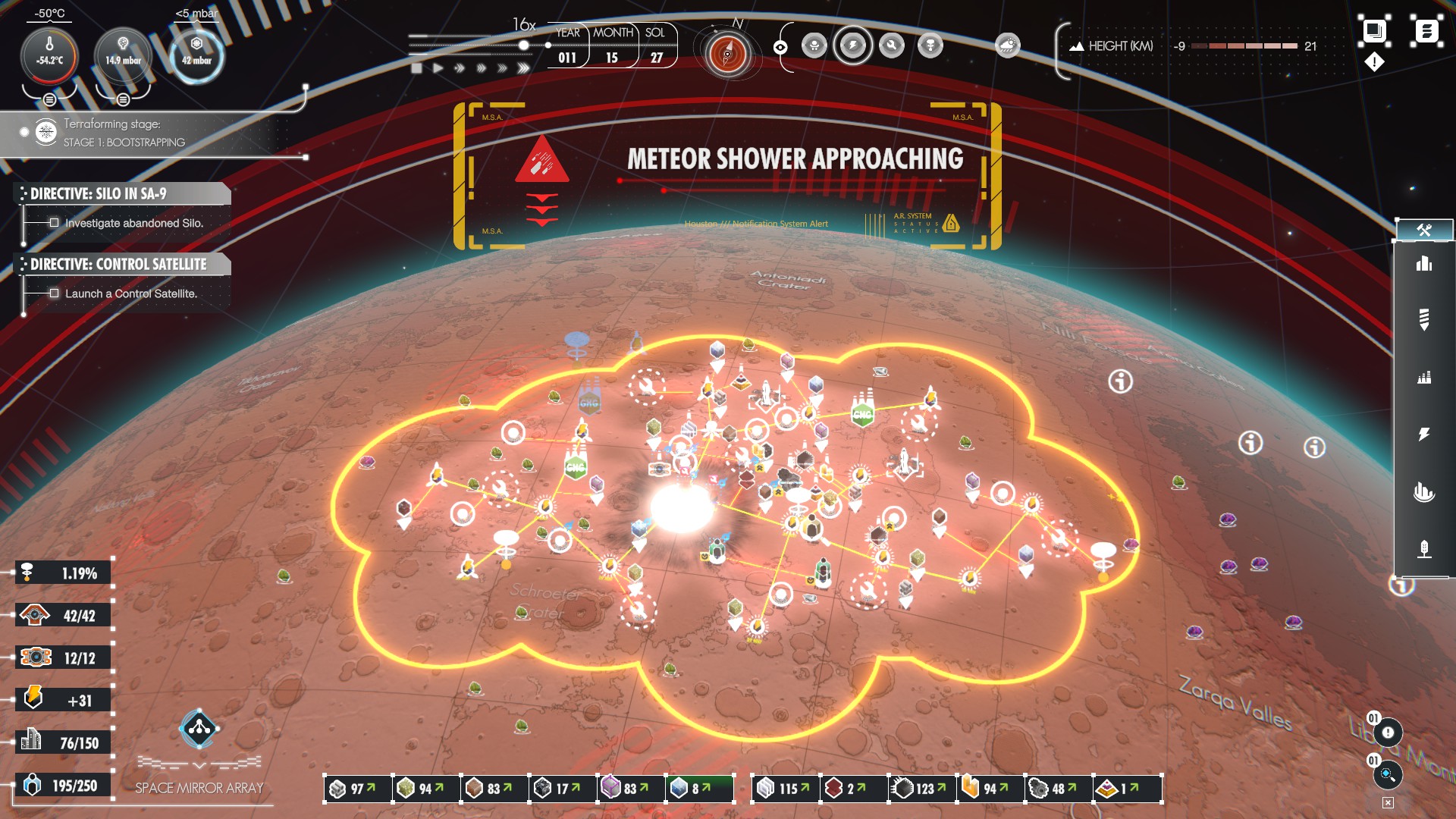 What got me hooked initially is the fact that you're actually able to change the planet. You're not accepting it the way it is but instead, you do your job and terraform the heck out of the planet. Using C02 you're able to raise the temperature of the planet to melt the ice caps. Then you import different gases to raise the temperature… eventually, you'll end up pumping oxygen into the atmosphere but if you do soon, you'll end up burning your base up since oxygen, in fact, is really flammable. It's a bummer, however, that you aren't able to move parts of the mountains away, giving you more space to build in, or maybe just forming the planet using other techs or builders of sorts to fill in craters and change the shape of things. I would have wished for something like that.
Another thing I would have wished for would have been more priority levels, an overview of the buildings and materials you've got going on, or maybe even options to point your factories into producing specifically for the other factory or whatever. While the minimalistic approach to the UI is fancy in a way… It also was not to my liking. The information I needed wasn't available to me. At the same time, I didn't get notified at all about resource nodes running out, colonists starving, workers getting destroyed, etc. When I wanted to do something about that, I could prioritize one building over another… but that's it. With only one priority level, the worker bots would just let the world burn and do nothing or rather do something… just not what I want them to do.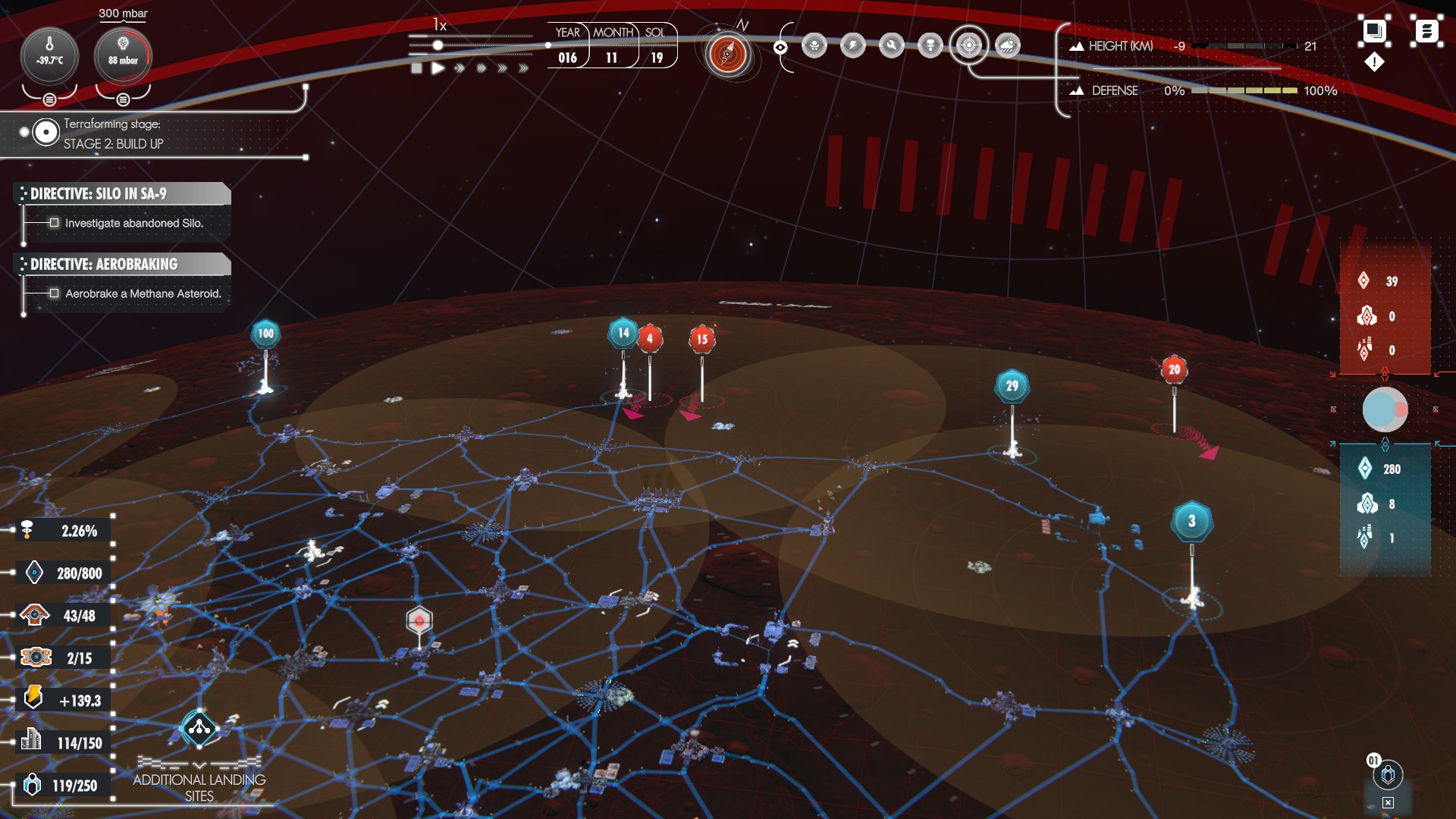 The game has a lot of issues and by throwing curveballs at you when you're still fixing the issue from before, I had a rough experience that wasn't that great at all after a while. While I enjoyed the game for eight hours straight, I got overly frustrated with it past that. The music is nice but gets annoying. The tech tree is boring. The sandbox mode is just a campaign without the story. The building feels janky… and eventually, the game turns into an RTS-ish game with enemies attacking you while your base is on fire. The developer says that the game is "hard" but even on the easiest difficulty, I feel like it's just unfair and annoying, at best.
All in all, I really want to love this game. It's great that a game is taking a shot at the whole "terraforming" thing through science and atmospheric stuff and all of that… and while the story and the look of it are lovely, I'm just not sure if I can recommend it, in its current state. I'd be more than happy to revisit Per Astera eventually again and see if it's worth playing… but right now, I'm not too sure on the whole "per Aspera ad Astera" part as there are way too many hardships and not enough stars for that.
Cheers!
This post was first published on Indiecator by Dan Indiecator aka MagiWasTaken. If you like what you see here and want to see more, you can check me out on Twitch and YouTube as well.