Ever since I was a child, I'd end up gazing up to the night sky in awe as it was brightening up with the light of distant stars and other planetary objects. It was fascinating to imagine what it was like out there and I always dreamt of becoming an astronaut or travelling space someday… but I knew that I'd never actually make it up there, especially because space is actually quite terrifying. Either way, it's amazing that people are already able to shoot space ships up there and travel to space stations with drones making their way to Mars and scientists searching for other exoplanets. It'd be amazing to live in a time where humans have set foot on other planets in the solar system already and where people could live far, far away from this problem-ridden planet here called Earth. Well, today's review is about a title that plays in exactly that sort of time, Hardspace: Shipbreaker!
Developer: Blackbird Interactive
Publisher: Focus Home Interactive
Genre: Simulation, Sci-Fi, Space, Early Access, Physics
Release Date: June 16th, 2020
Reviewed on: PC
Available on: PC
Copy was purchased.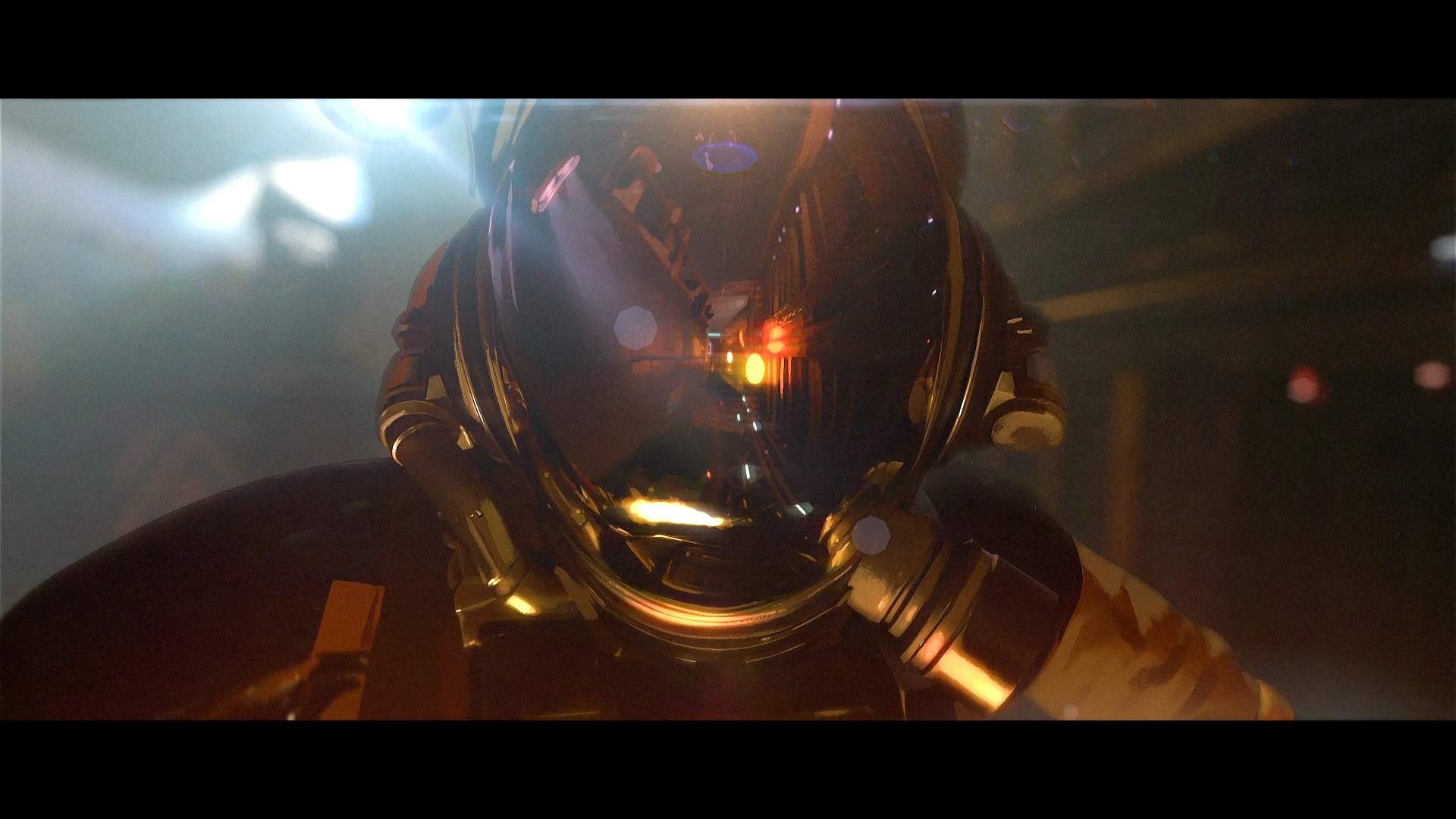 In the aforementioned age of planetary colonisation, space ships have become more and more common and companies have taken command of space travel and turned into their own business. I guess this is somewhat realistic if you think about how Google, Tesla, and other companies are being idolized nowadays and how these companies are getting contracted by countries and governments. Anyways, in this day and age, where many humans have fled to other planets, there is one company that owns and operates a network of massive rail gates that let you warp through the inner solar system. This company called LYNX is actually also your boss in this game as you've signed away your rights and as you became a cutter in order to pay off your massive debt of a billion credits.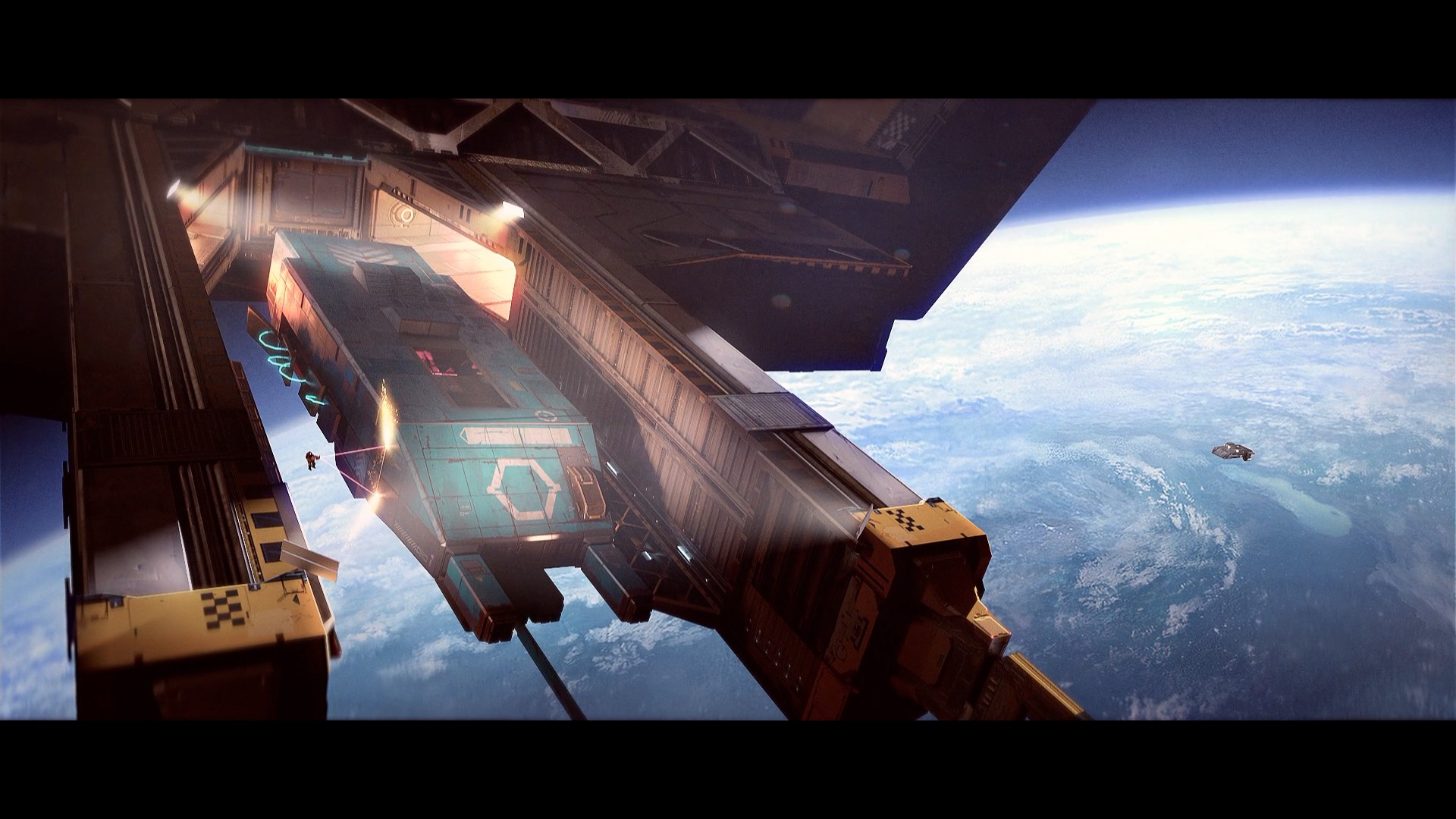 Being a cutter entails taking apart ships during your 15-minute shifts and processing the parts to make money for LYNX and to ultimate dig away at the aforementioned debt. It may seem daunting but in the future, this is your only option really, which is why your playthrough is dictated by efficiency and debt. You own nothing. Not your tools, not your home, not even your life. If you die, you get resurrect since LYNX owns your DNA signature. This process of resurrection costs a hefty amount of money which will be added to your debt. So, let's dive in and play some Reverse-Lego, shall we?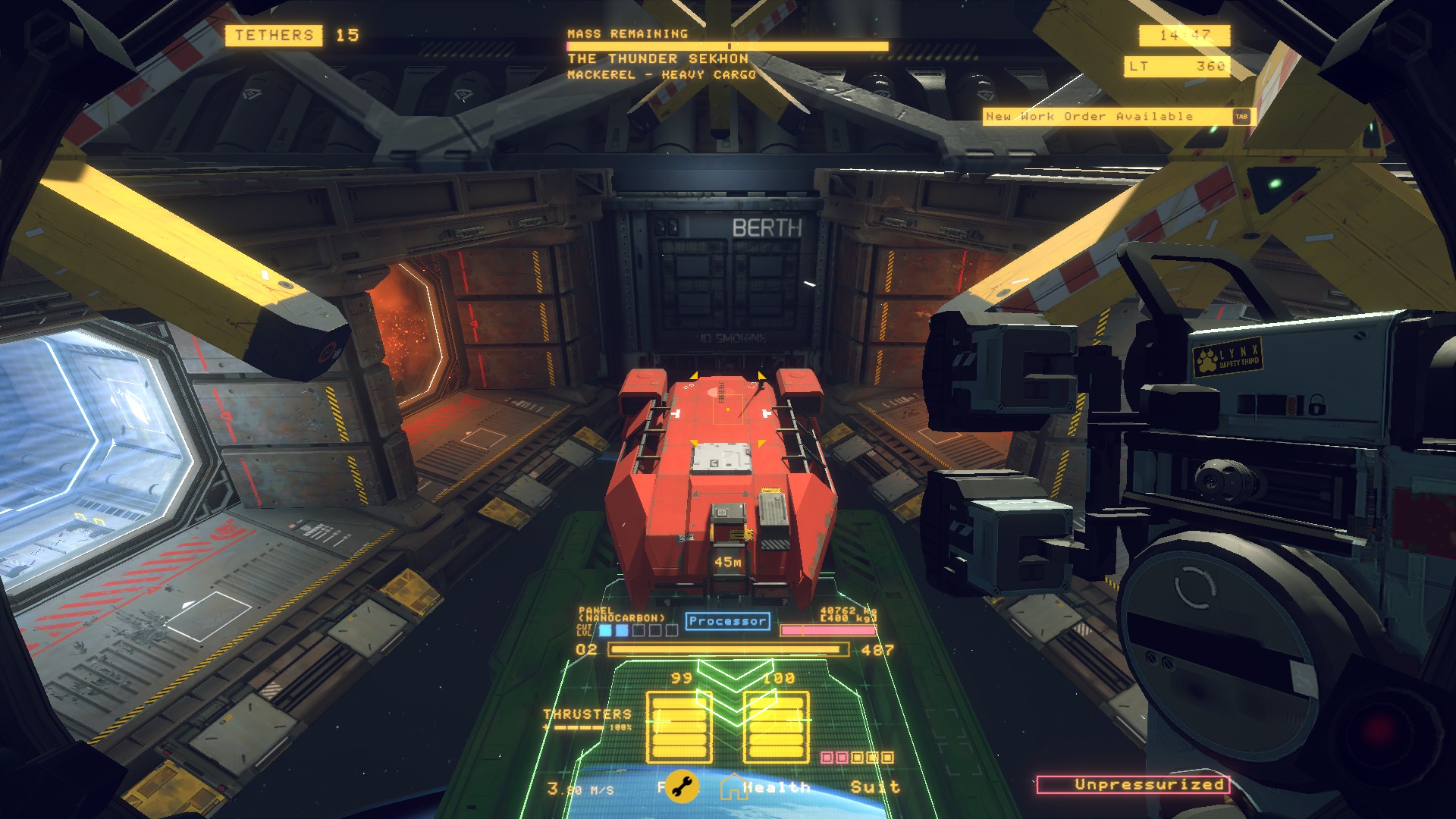 You, as the player and the so-called "cutter", own a set of tools that help you with your work orders. For starters, you own a tether-powered grapple that can be utilized to move around or push/pull ship parts into the appropriate places. Raw metal belongs in the furnace. Nanocarbon goes into the Processor. Salvage-able parts like seats, terminals and cargo belong in the barge. In case you don't know where a part goes, your UI will tell you, so don't worry too much about it. Another tool of yours is a laser cutter that allows you to take apart the ships at certain points in it, as well as a scanner that can be used to locate rooms, objects and potential threats. Yes, there are threats in this game… Not only can you run out of oxygen or get melted in the furnace but there are also power cables that can electrocute you, fuel tanks that can burn you to a crisp and reactors that can blow up on you. Naturally, you'll be cloned and hence, resurrected… but again, that costs money, not to mention that explosions will cause a loss of money.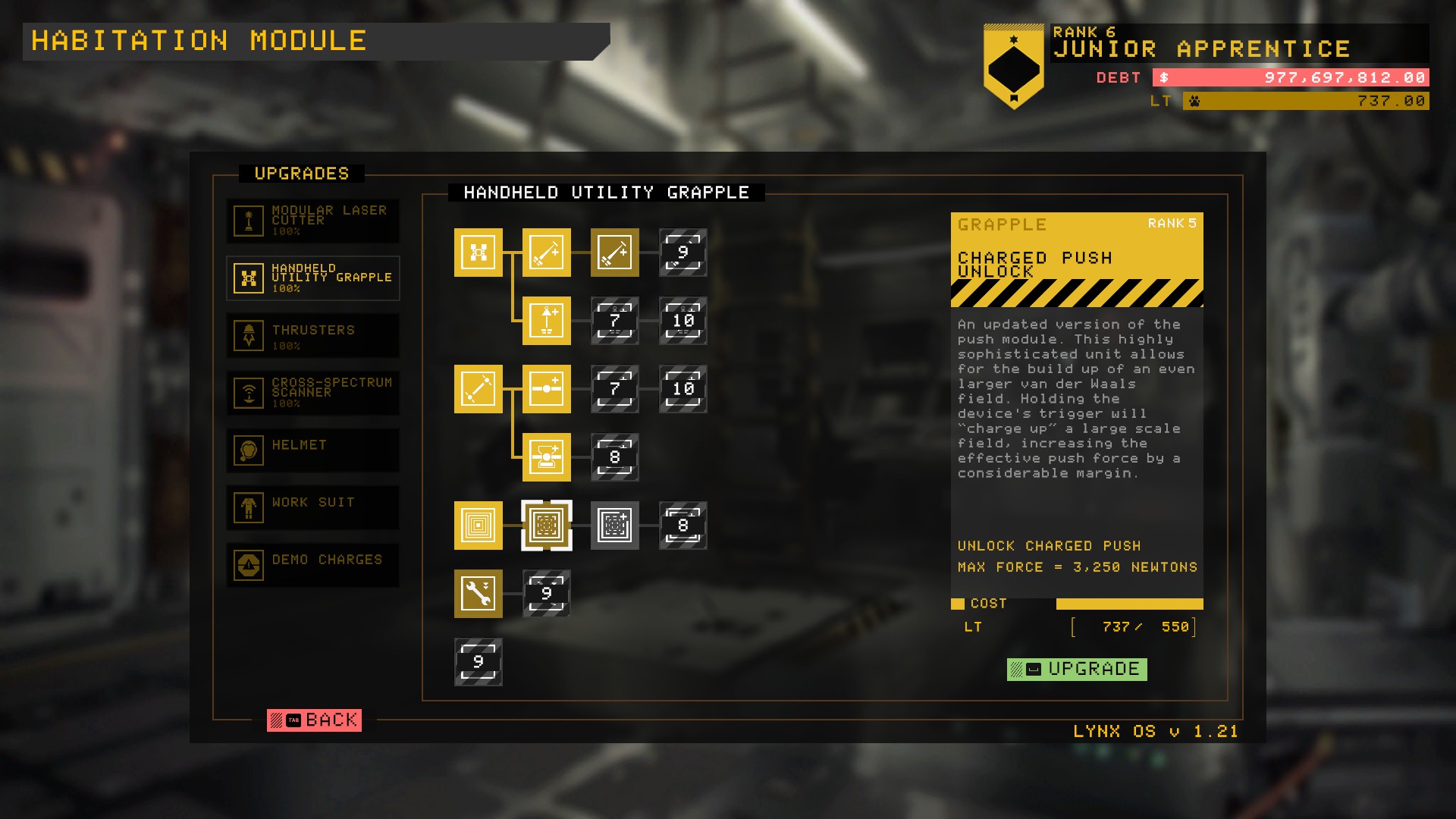 But overall, the game's very chill. I wouldn't worry about min-maxing your shifts or getting everything done in one go… I wouldn't worry about the certification grades or whatever. Play the game at your own place. There even is a mode that allows you to play with only one life while another game mode allows you to engage in free play or play without a time/oxygen-limited. The game is meant to be relaxing. If you enjoy the challenge, there are weekly challenges in the game as well with leaderboards and an active community… but really, this is my go-to "chill out" game for when I need to calm down, relax, or distract myself. Taking apart space ships is amazing, the game looks stunning, and the soundtrack is wonderful. Pair that with the wonderful eye candy that has been added recently and the humour in some of the dialogue and you've got a fantastic game that is already quite polished despite being in Early Access.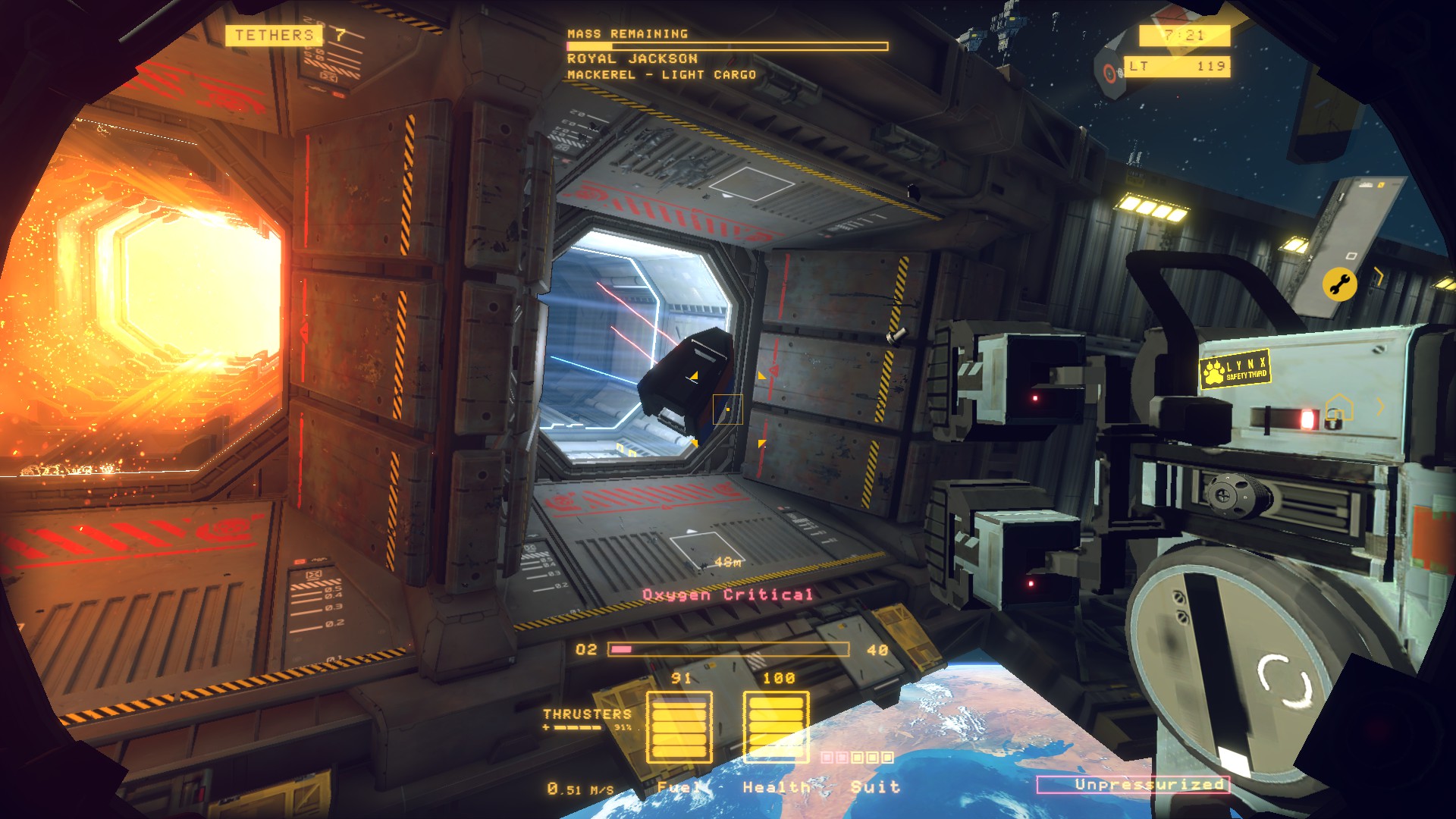 The game gets updated frequently and while the debt isn't too much of a concern, it's a bit annoying that your save file gets wiped whenever there is a major update. I'd love it if the developers would give you a way to keep your save file but still play the new update. Apart from that, though, there aren't really too many concerns. I'd love to see more story-related interactions in the game, to be honest, but I don't mind the lack of a story. There are data-boxes that you can encrypt with messages left by evil AIs, former crewmates of the ships you take apart, as well as other people involved with the crew, which is interesting.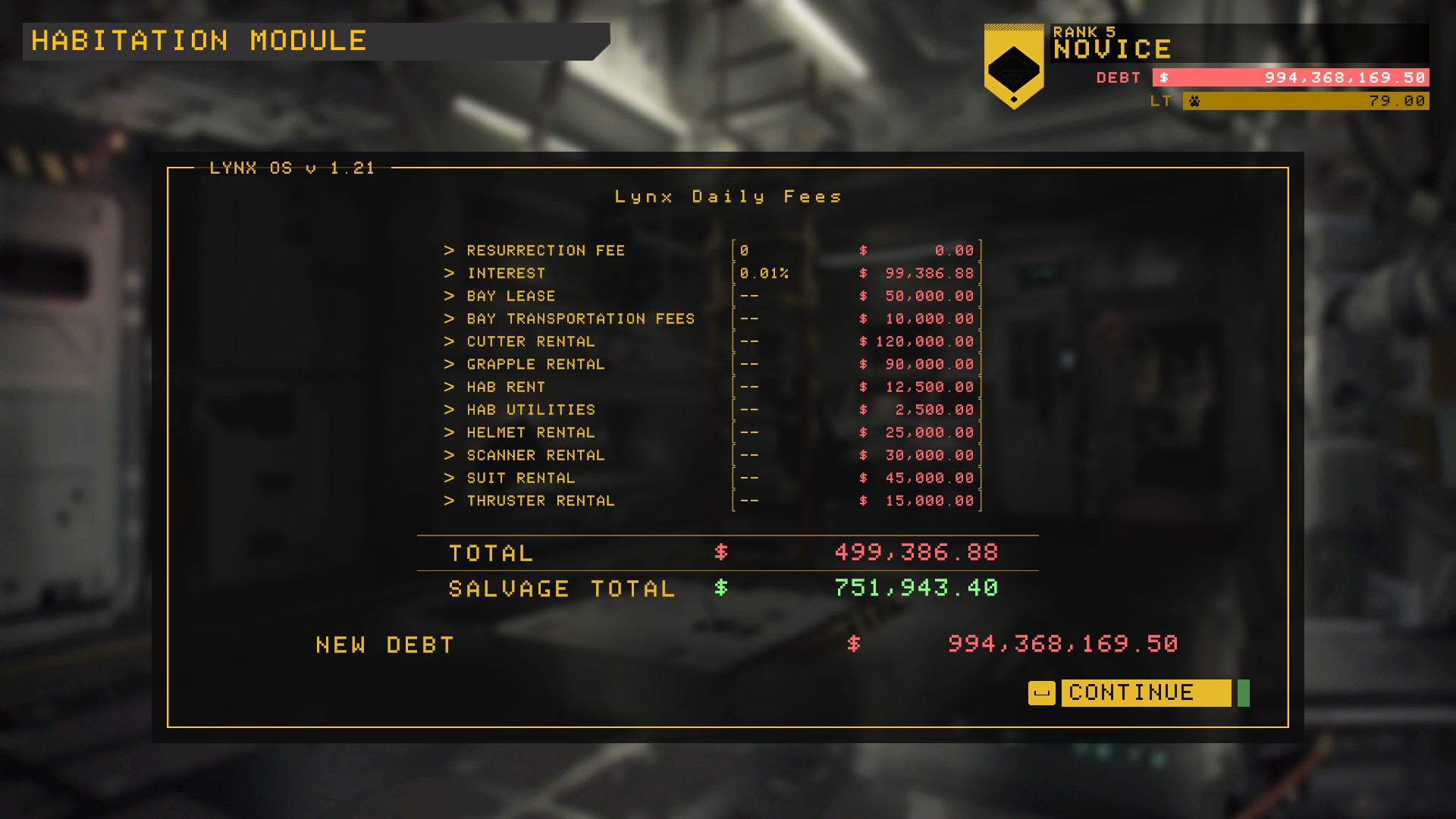 As an insert here, I'd like to mention that my absolute favourite of the game is the ability to take apart ghost ships. They are seriously creepy, especially since they need to be "exorcised" by destroying AI Nodes… If you don't do that, you may end up getting locked in by the AI, which is not only spooky but also quite fun. Apart from that, I also love the stickers you can put on your grapple and the cutter… and I love the little backstories you get from data caches.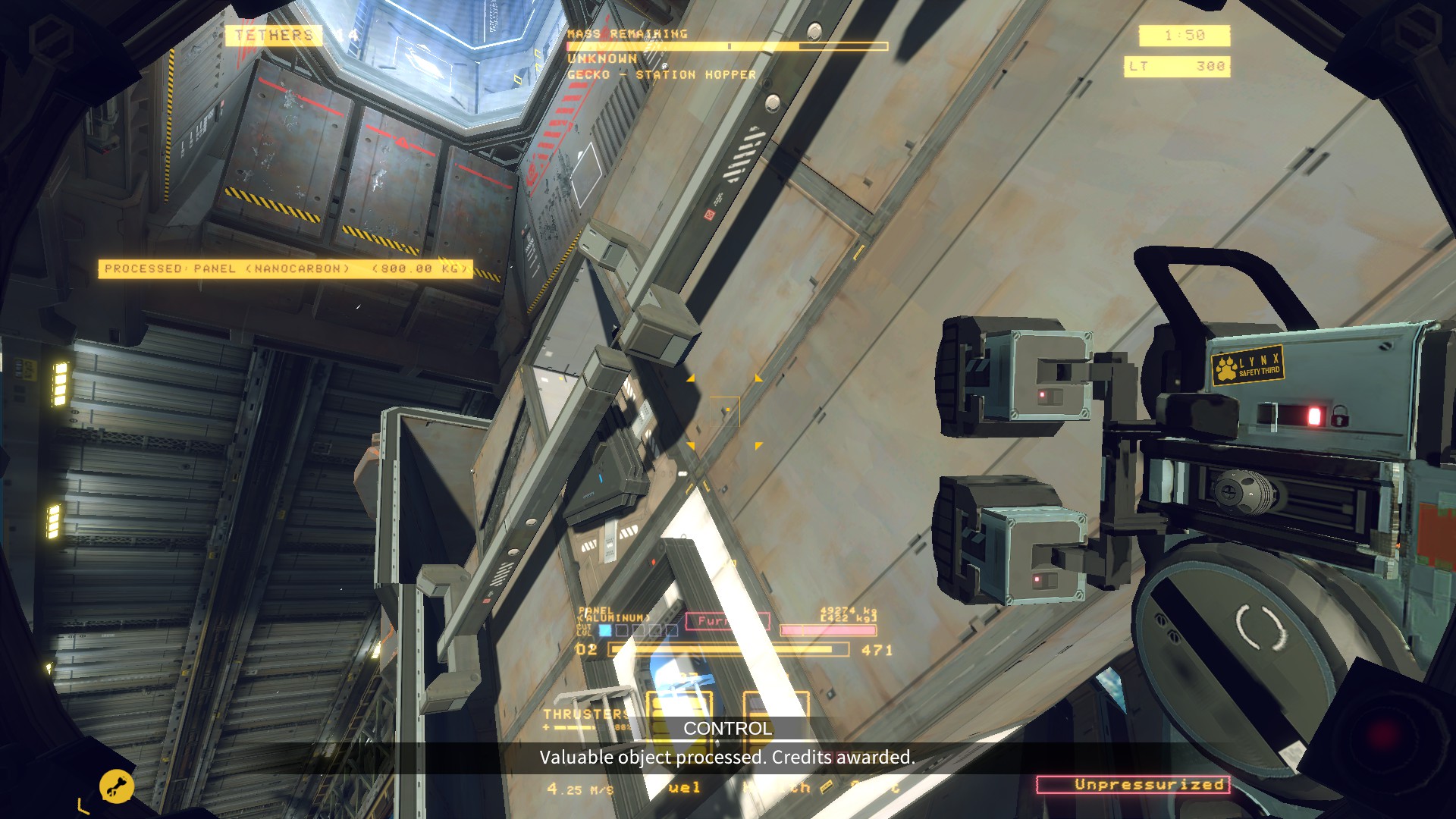 The game contains flashing lights at times, so I wouldn't recommend this to you if you have any issues with that, but otherwise, it's a very nice and chill experience in my opinion. It's a lot of fun to take apart the ships and I'm looking forward to writing another post on future updates once there are more coming out. There may be bugs since it's still in EA but personally, I have only encountered one crash in my 30 hours of playtime (so far) and I doubt that I'll encounter many more since the game seems to be fairly polished. All in all, Hardspace: Shipbreaker is a very satisfying and relaxing game that lets you take your time in space while you destroy or blow up abandoned space ships and slowly get rid of that debt! Highly recommend it!
Anyways, that's it for the post today. Hope you enjoyed it!
Cheers!
This post was first published on Indiecator by Dan Indiecator aka MagiWasTaken. If you like what you see here and want to see more, you can check me out on Twitch and YouTube as well.