During the Spooktober of last year, I played through the first Bioshock game on Twitch. I loved it. I loved the universe, the soundtrack, the combat and the way the whole world is fleshed out. You can read about all of that in my post on it from November 28th. Alas, I recently got into the second game on Stream as well and we managed to play through it just a little over a week ago. Alas, it's time for another LttP post!
Note: There may be minor to small spoilers for the game. I didn't talk about certain things to not spoil them or ruin the effect on you… but I guess you wouldn't read this if you didn't know already that there could be spoilers. In any case, you've been warned about potential spoilers. Enjoy the post!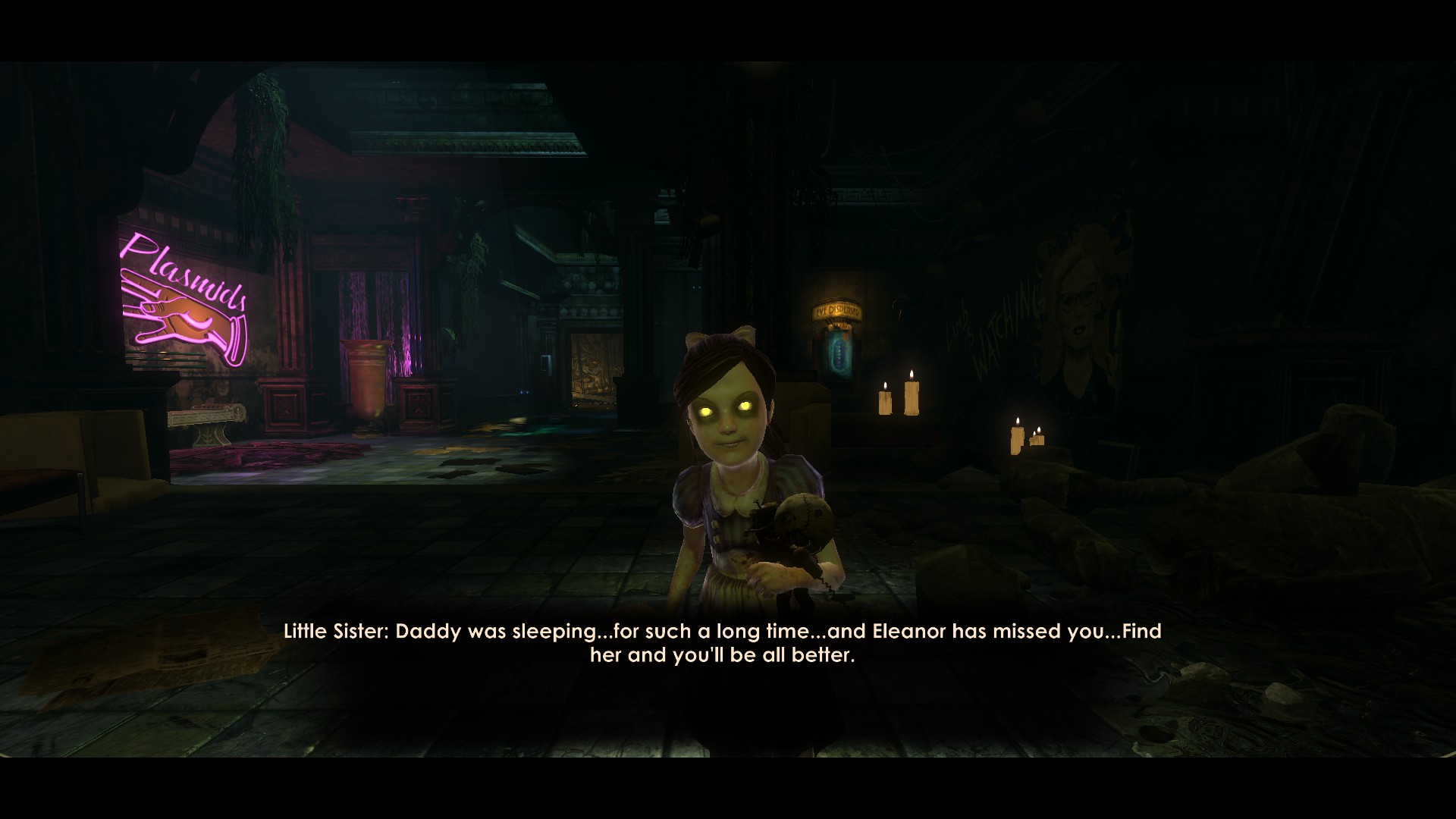 First things first, I'd like to say that the Bioshock games are somewhat old already. Alas, I played the Remastered version of the second game as it's just a bit more pleasing on the eyes. There are also fewer bugs in it and the sound doesn't have as many hiccups as the original version, which is great. I guess you could argue that it's not the same as playing the actual Bioshock 2 game but honestly, I don't see the point in differentiating between the two games. The Remastered version did perform better on my newer PC, alas I just played that.
While we were playing as some sort of agent that infiltrated Rapture in the first game, the second game lets us play as one of the most iconic denizens of Rapture, the Big Daddy. We explore through the decrepit and beautiful fallen city, chasing an unseen foe named Lamb, in search for answers. Our little sister was taken away from us as we were asked if we would kindly shoot ourselves. Somehow, though, we survived and got revived in a vita chamber in Rapture, which is where our story begins.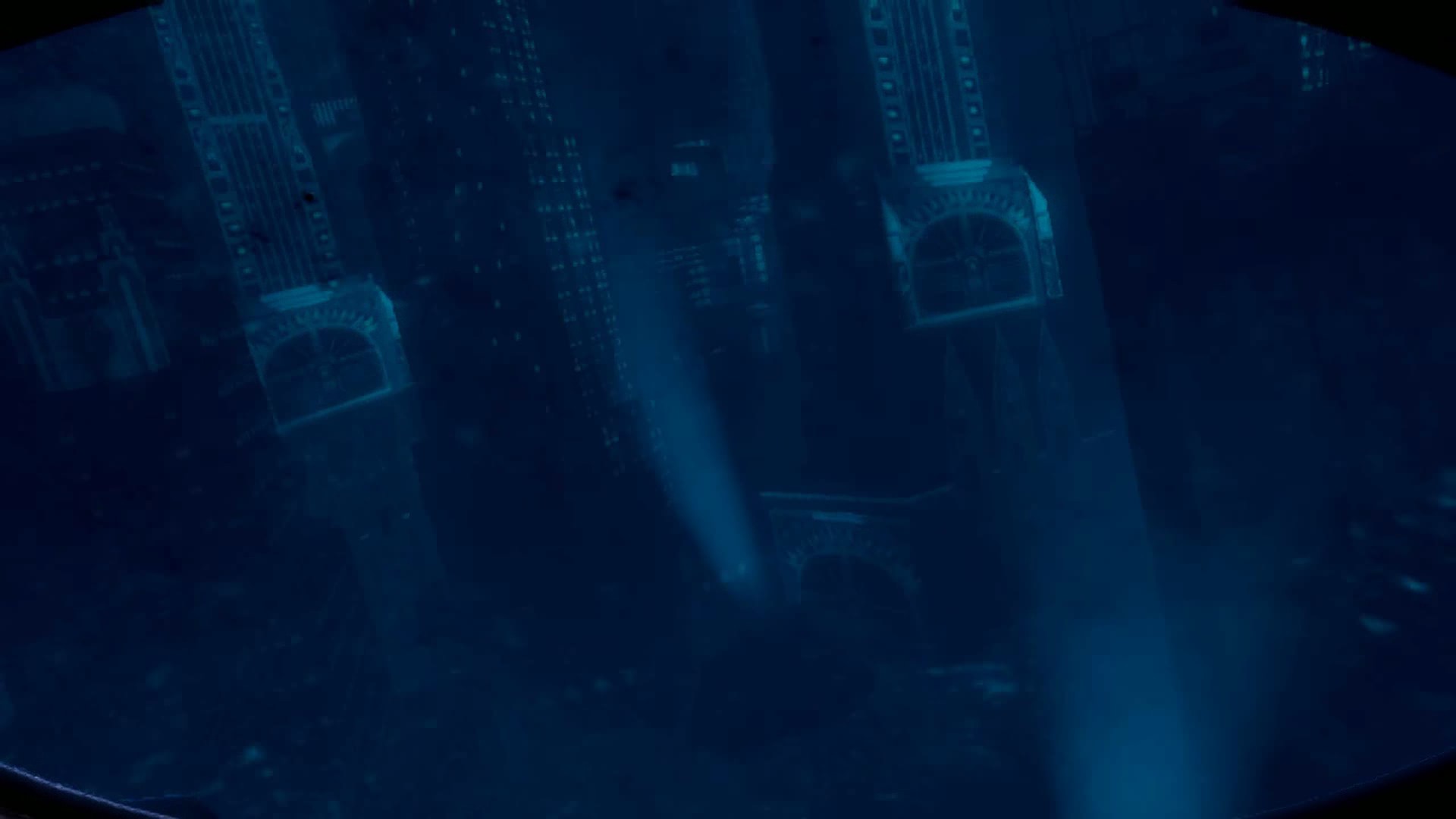 From the getgo, I was in awe. I love Rapture and the Bioshock universe but in this game… it's just more rotten and devastated. The sunken city is incredibly pretty, especially when we get to explore the underwater world in our Big Daddy suit. I loved the new perspective on things as we hear the ground trembling as we stomp through the areas. While we're somewhat slow, the game equipped us with a powerful drill as well as a bunch of different weapons and powers to add to our arsenal.
Just like in the first game, you're able to sling spells, so-called "Plasmids" at our foes and opponents, all in order to survive. If that's not your style, you still have the option of using guns or melee attacks. What surprised me was that while I wasn't unsatisfied with combat in the first game, I really enjoyed the changes to combat in the second game. For instance, we're able to use plasmids and weapons at the same time, resulting in some cool interactions. Our drill is powerful but requires fuel, which adds a new type of ammunition to the game. If you're out of it, you won't be able to use your drill's charge attack but you can still wack enemies rather well, smashing their faces and breaking their spirits. Apart from that, the camera that you use to find out about enemy weaknesses now doesn't require ammunition anymore.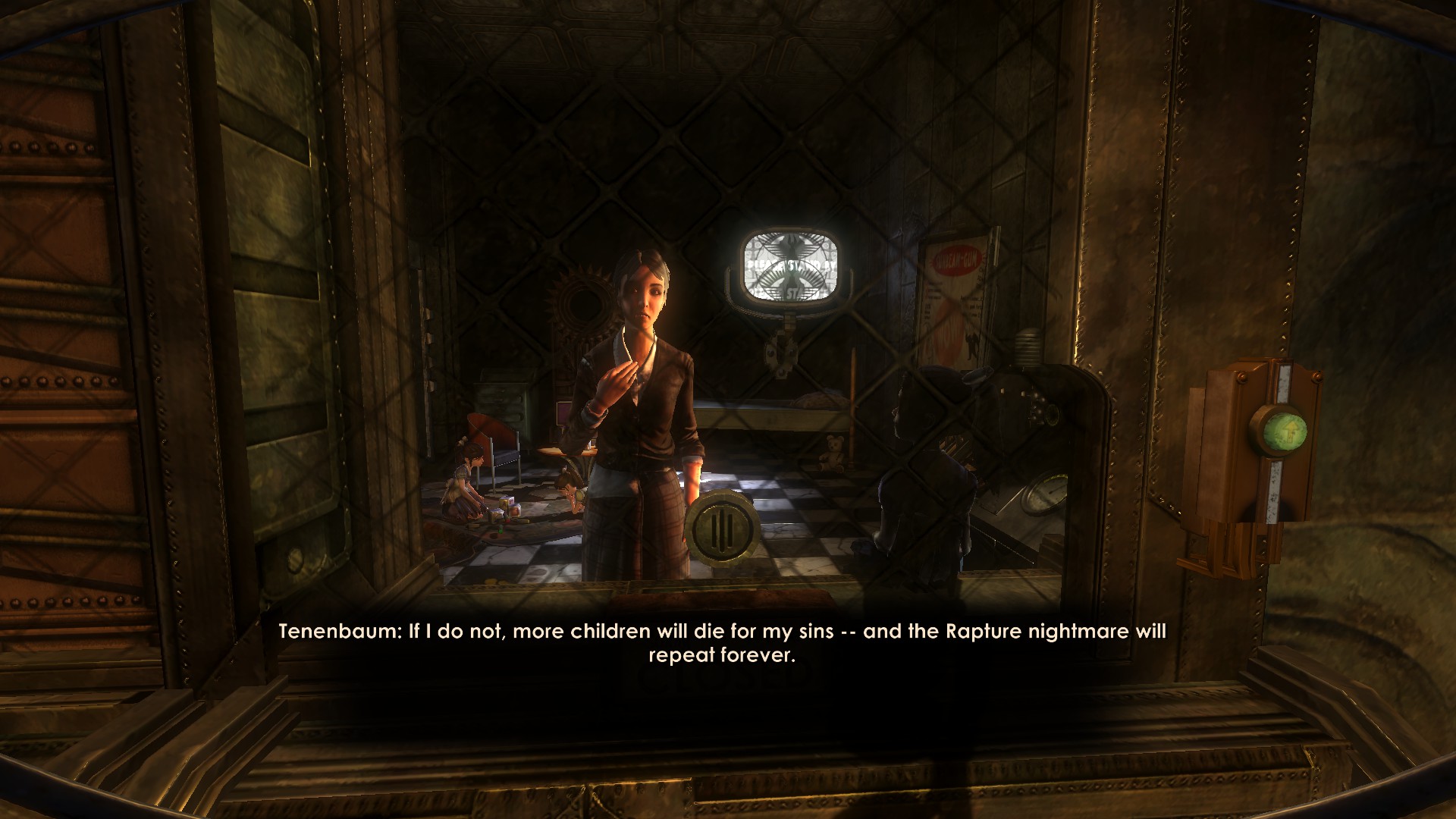 On top of that, you now have a hacking tool to remote-hack turrets, cameras and doors, which is lovely. Even the hacking tool, however, can be used as a weapon to place down miniature turrets that deal a good amount of damage.
Hacking in the first game was kind of janky in a way. Often, you'd rely on luck rather than skill as you were pressured by the time running out and as you needed to guide water through a circuit board, which didn't typically make sense. The mini-game was fun but kind of unlogical in a way. Meanwhile, in this game, you're able to hack enemies while in combat and you actually have to prove your skill as you hit certain areas in a smaller sized mini-game. It obviously isn't the best solution but it is one that exists and that doesn't utilize water, which is a good thing.
Overall, the second game offers a lot of quality of life changes that improve combat and hacking. The soundtrack is still amazing. The game looks stunning.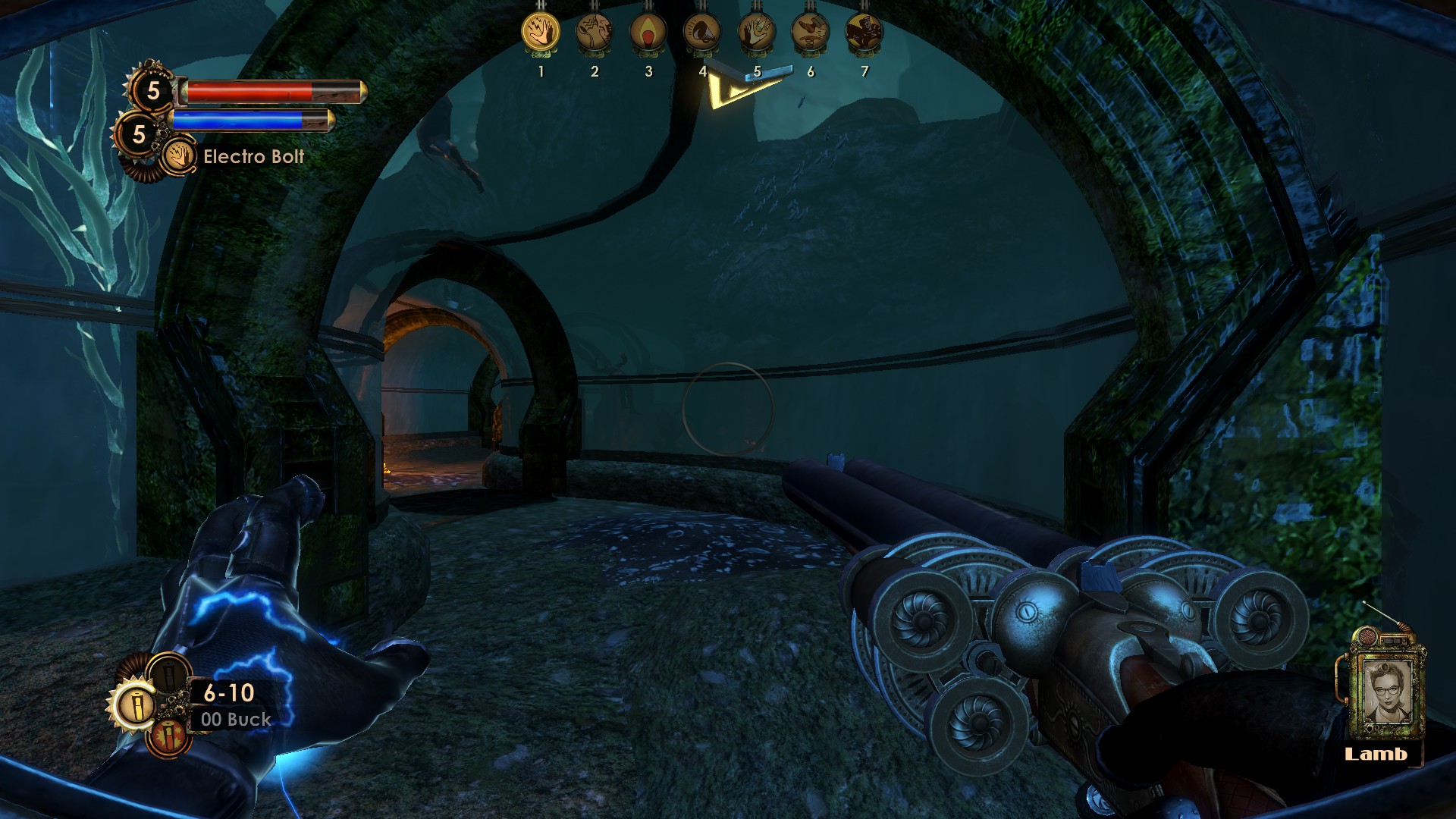 But the issue with Bioshock 2 is that you don't really have an enemy of sorts for most of the game. You hear about Lamb here and there but you never really know who that's supposed to be. In the same manner, you've got Sinclair who just stops by and suddenly starts to help you but I couldn't just get attached to him as a help, especially as our helper in the first game ended up betraying us. By the end of the game, I felt a bit let down as Sinclair didn't betray us at all… that's a shame? I guess? Or not? I don't know.
The world-building is well-done and the game feels immersive. Characters have an actual backstory and their own motivations and ideals but in the end, the story overall feels somewhat lacking in a way especially as you go through the first few areas with little to no clue about who you are, who Lamb is and what your goal is. You need to free your little sister but that's about it, I guess? Why do you go that far and what makes you special from other Big Daddies?
Another nice addition is that, after defeating Big Daddies, you get to adopt (or harvest) their Little Sisters. You then get to harvest bodies for Adam while defending your Little Sister in order to attain more of that scarce resource that you need for your upgrades. Lovely!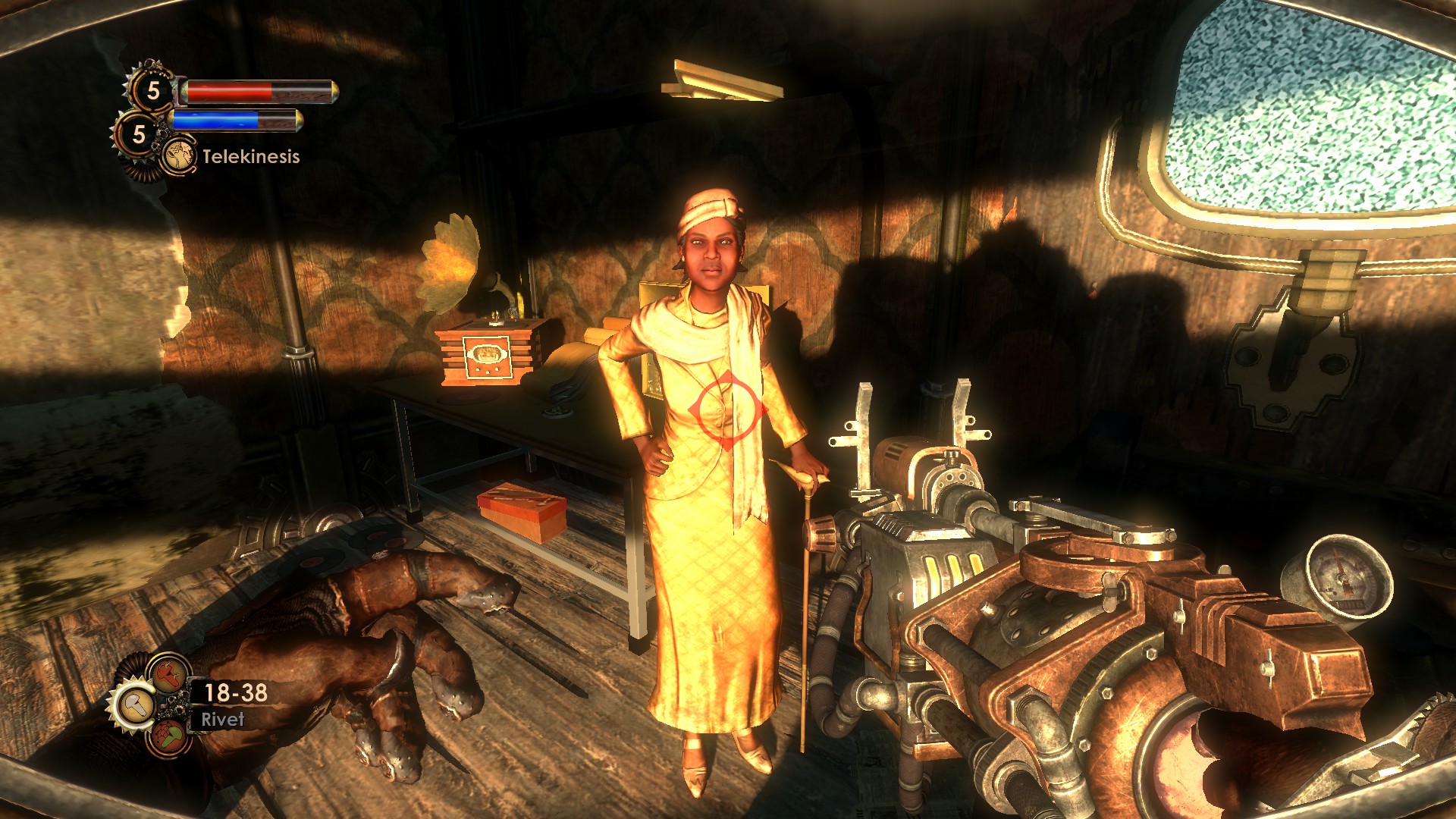 Just like in the first game, you have a good and a bad ending. Harvesting the little sisters ends up giving you the bad ending while adopting and rescuing them gives you a good ending. On top of that, you have these scenarios in the game where you can kill the leaders of the different areas or you spare them. Each of these decisions also influences your ending a little bit. In one of the early areas, I had the option of killing an unarmed black woman. She put us through hell but I decided to walk away. She then realised that I wasn't some sort of baby-snatcher and monster but rather more than that: A human being.
Alas, she provided us with some support and she got to live. I would have liked it if we would have heard more of her later on… but in the end, that didn't happen. No idea what happened to her.
So, the story feels a bit weaker but in the final hours, it got rather emotional and nearly brought me to tears. The additions and improvements to the game felt great. The new spells and mechanics are interesting. The story, while at first somewhat weaker, made me feel… things. On top of that, we finally were able to see through the eyes of a Big Daddy (and more, wink wink). And all in all, I really enjoyed this game. I hope that I get to play Bioshock Infinite soon. I'd also like to play the Bioshock 2 DLC "Minerva's Den" eventually… but that will have to wait until it goes on sale.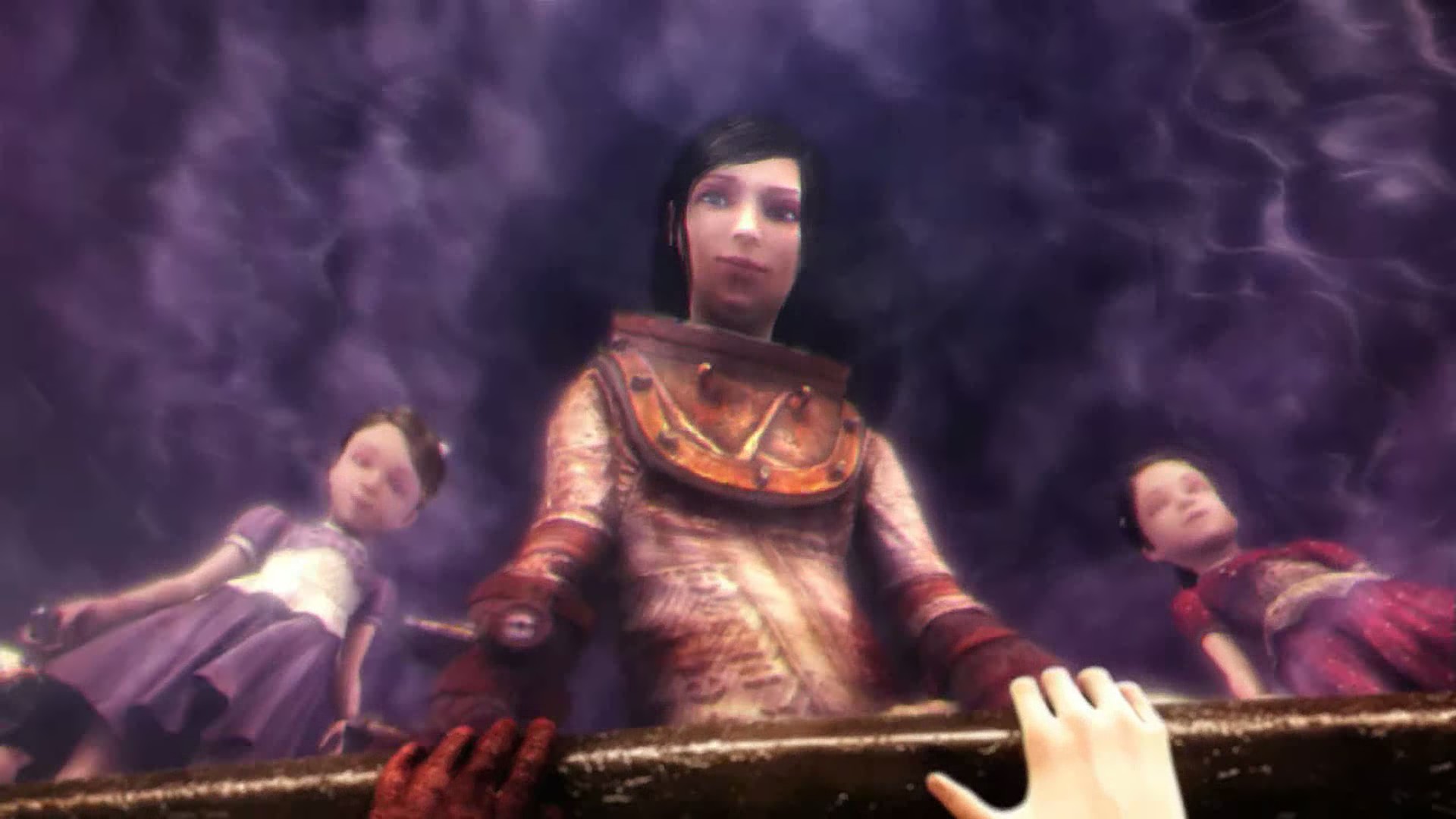 For now, this just means that there is another game that I played through (in a time of nearly 10 hours with 27/53 achievements completed) and I really enjoyed it. The backlog ended up shrinking a little and hopefully, I get to have more fun with other titles in the future again.
What about you? Did you play Bioshock 2 and if so, did you enjoy it? Let me know! Also, are there any other titles that you'd like to see featured here that I may not have played yet? I'd love to get into the Fallout Games eventually and maybe write something about Borderlands 3 (as I still haven't played that game in the franchise) or about NieR Replicant which is coming out soon. But that will have to wait until I get to it and until I have a bit more time.
Cheers!
This post was first published on Indiecator by Dan Indiecator aka MagiWasTaken. If you like what you see here and want to see more, you can check me out on Twitch and YouTube as well.