A while ago I reviewed Hopoo Games' Risk of Rain 1 and it's to-date one of my favourite games. It's a lovely Indie-Action-Roguelike-title with a very nice combat system, a wonderful soundtrack and a timer that is increasing the difficulty the longer you take to complete the game. Hopoo Games released Risk of Rain 1 in 2013 and then announced that I wanted to develop a second game that would take place in the third dimension! A whole new game that would play like a third-person-shooter but still remain true to its core-values that made RoR1 a RoR-game. And well…. since March 2019 it's Hopoo's time to shine as Risk of Rain 2 released in Early Access and as tons of people discovered it for themselves, gave feedback on the discord-server, streamed it, made videos on it and wrote about it.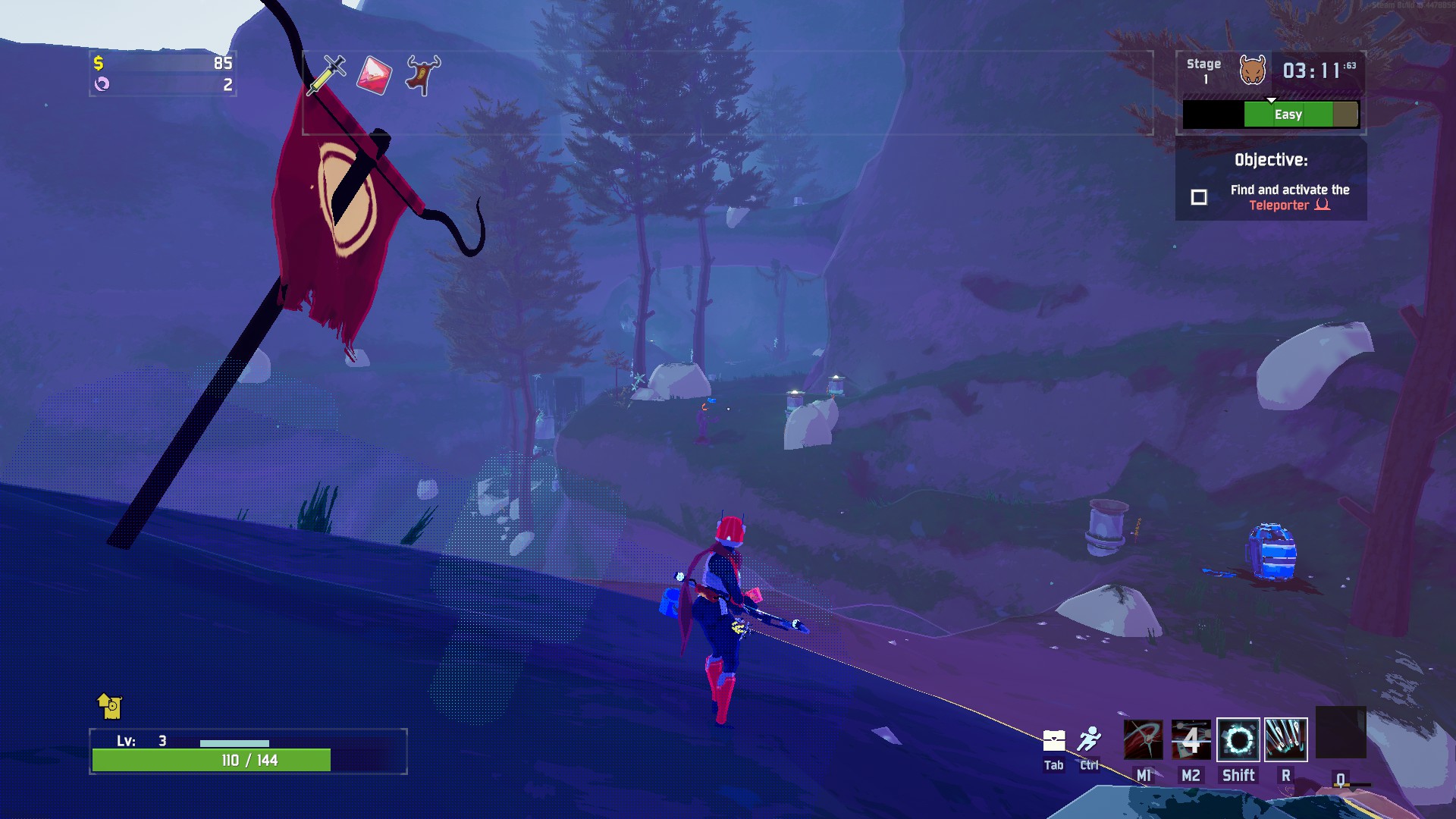 But how do I like Risk of Rain 2 and do I recommend it? Let's find out!
Note: In this review, I will be comparing the second game to the first game quite often, so I recommend checking it out over here. Of course I'll review the game as usual in different aspects, so there's going to be a lot of reviewing on parts that are new or that make RoR2 unique, so enjoy this review. :)
Developer: Hopoo Games
Publisher: Gearbox Publishing
Genres: Action, Adventure, Rogue-like, Indie, Third Person Shooter,
Release Date: March 28, 2019
Reviewed on: PC
Available on: PC, XBOX One, PS4, Switch
Copy was purchased.
For anyone who doesn't know about the Risk of Rain games (I suppose, it's a franchise now), you essentially spawn on a foreign planet and fight off monsters while searching for a teleporter to get to the next area. Fighting enemies grants you experience (that levels you up, increasing your stats) and gold. Gold can then be used to open up chests and receive items that grant you all kinds of special perks from stat-increases (like attack speed or move speed up) to game-changing elements (like poison damage or exploding enemies).
When you find the teleporter, you activate it to spawn the last waves of enemies and to spawn the boss who you then have to defeat to get rewarded with yet another item and to proceed to the next level. Dying never felt unfair and there were a ton of possibilities of item-combinations to make you super overpowered and it's really great!
While Risk of Rain 1 better when using the gamepad/controller, due to its platforming-nature, Risk of Rain 2 plays better using the mouse and keyboard since it requires a lot of aiming. Don't get me wrong, gamepad-controls still work quite well, but I'm better at aiming, using a mouse. Controls are rather smooth, you've still got your shooting ability, second ability and ultimate, as well as some sort of mobility-ability. You can remap the keybindings but I found the standard ones to work out just fine. There's also a whole new sprint-button and as I'm not used to that being a thing, I forget about that button more often than not.
The aforementioned sprint-button is very convenient since the new levels are massive!
Being procedurally generated, they offer a lot to see with different biomes and different enemies depending on what level you are at. The chests and the teleporter are also located on different spots, so you always have to find them. I really enjoyed the wide areas and the feeling you have when you're standing up close to the bosses. You're just tiny compared to it all!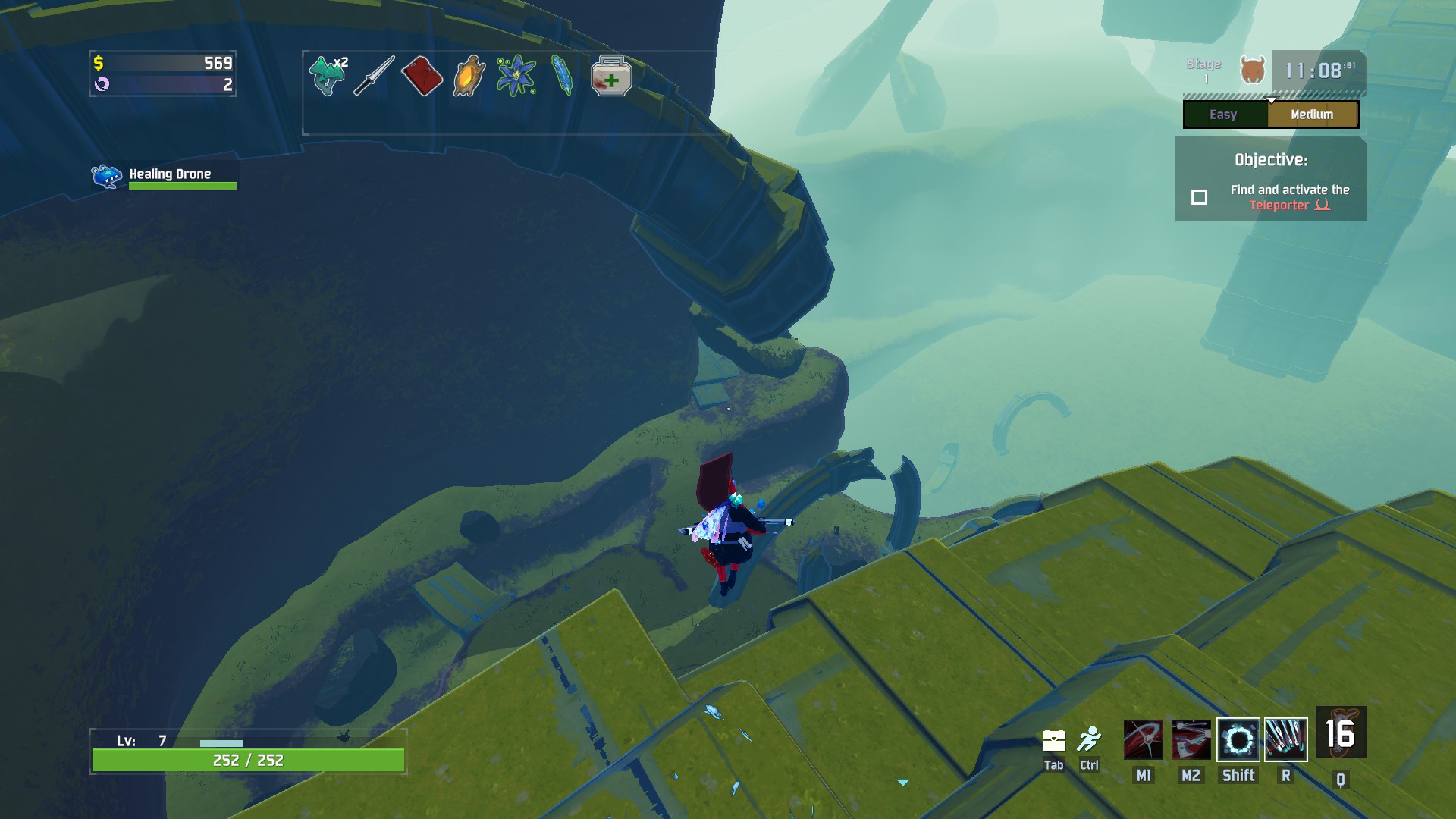 Speaking of bosses, we can find a lot of RoR1's enemies and bosses in the game as well.
From the Whisps to the Lemurians and Stone Golems (on the enemy-front) to the Magma Worm, the Wandering Vagrant, the Imp Overlord, the Scavenger, and the Stone Titan (on the boss front). These still have similar patterns to Risk of Rain 1 but since we're playing in the third-person-view a lot of their attacks are wide ones with great areas of attacks and different moves. There are also new bosses like the Clay Dunestrider, the Beetle Queen, the Alloy Warship Unit and, one of my favourites, the Grovetender.
These new bosses either spawn enemies or pull you in, some have chain attacks while others have special conditions that need to be met before they can spawn. It surely is really interesting to see these new bosses in the game while still keeping some old fan-favourites in the game.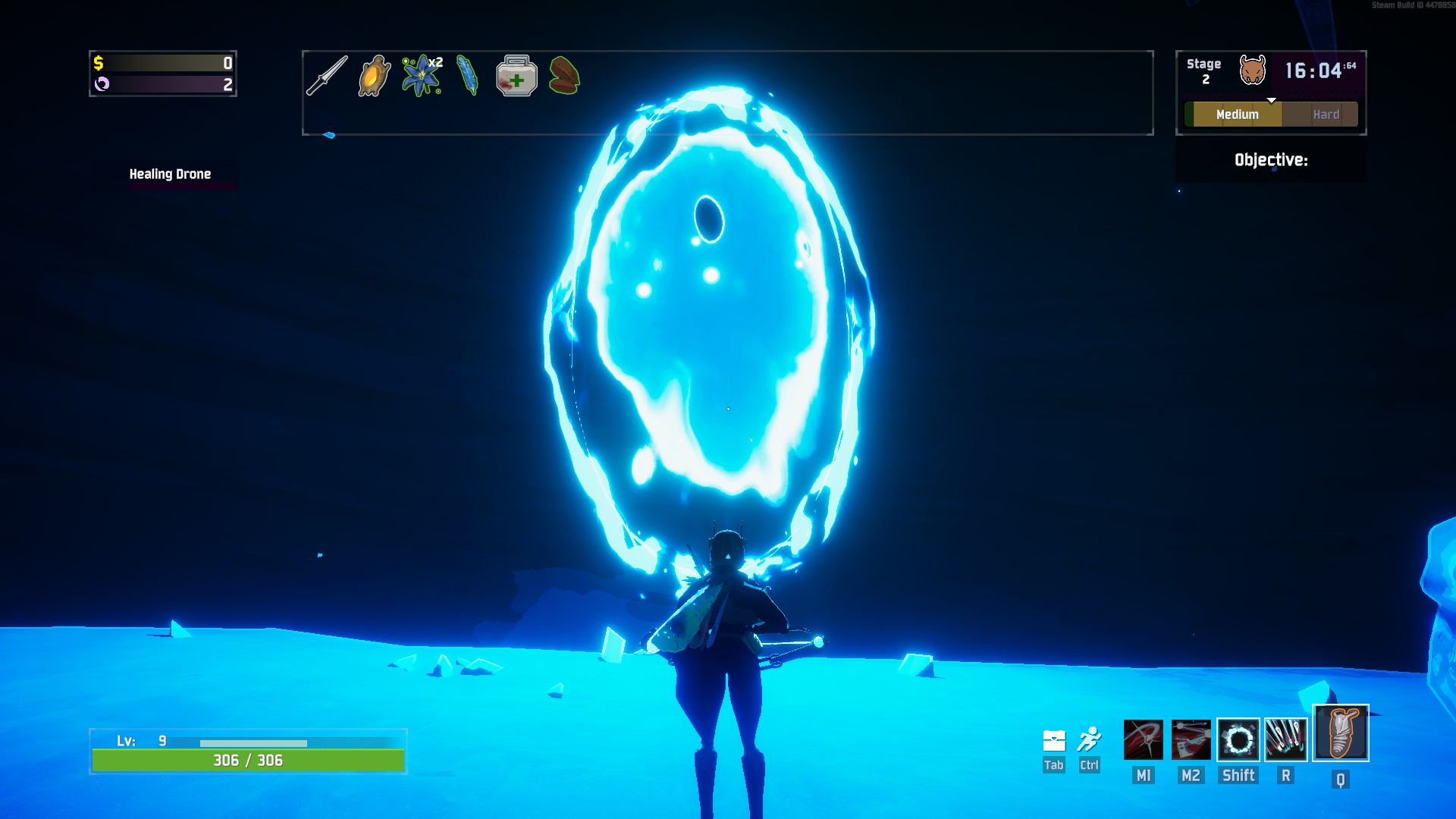 Hopoo Games changed the boss-mechanic in a way, though. In Risk of Rain 1, once you've activated the teleporter, you'd have to defeat the boss and all enemies that have spawned in the next [time based on difficulty] seconds. This "clean up" of sorts was rather annoying but manageable in the first game.
Now, in the second game there's no such thing as a "clean up". Once you activate the teleporter, a globe around it is displayed with a red circle in which you need to stand to charge the teleporter up. In that time, enemies keep spawning while the boss (still) is attacking you. Of course, you can leave the area around the teleporter, but it won't charge in that time and the boss will follow you around. Once it's charged up completely, you can use the teleporter right away after defeating the boss, resulting in your excess money getting converted into experience points.
I really liked this change as it meant that you'd have to tackle bosses differently and as you couldn't just wait the event out and then clean up slowly.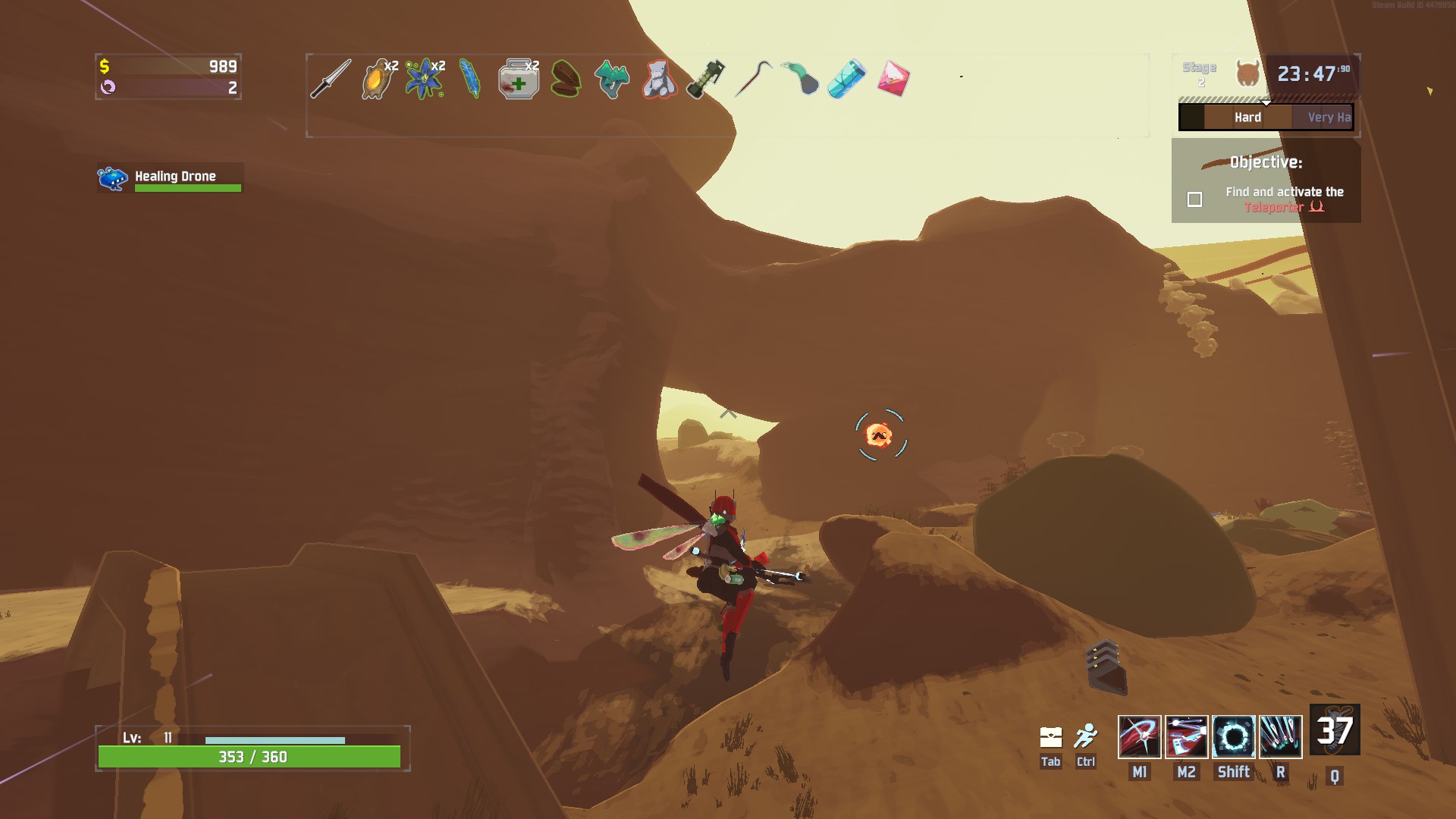 The old enemies along the side of new enemies like the Brass Contraption and the Beetle Guards really make the world feel lively although dangerous.
There're a lot of new attacks to look out for, coming at you from all sides. Lesser Whisps are rather weak but since they spawn a lot and since they are flying, you need to take care of them rather quickly as they do hurt a lot. And then there are the slow but sturdy Stone Golems who attack with a laser beam but need to charge up slowly after every attack. I really enjoyed this variety and new enemies are being added in every new update.
And then there are new items, too, along side old classics like the Soldier's Syringe that increases the attackspeed-stat or Paul's Goathoof that increases movement speed. I really enjoyed seeing these items again while also having new items like Little Discipline (which shoots out whisps from a container) or the Queen's Gland (which spawns a Beetle Guard on your side that attacks enemies and can block shots for you).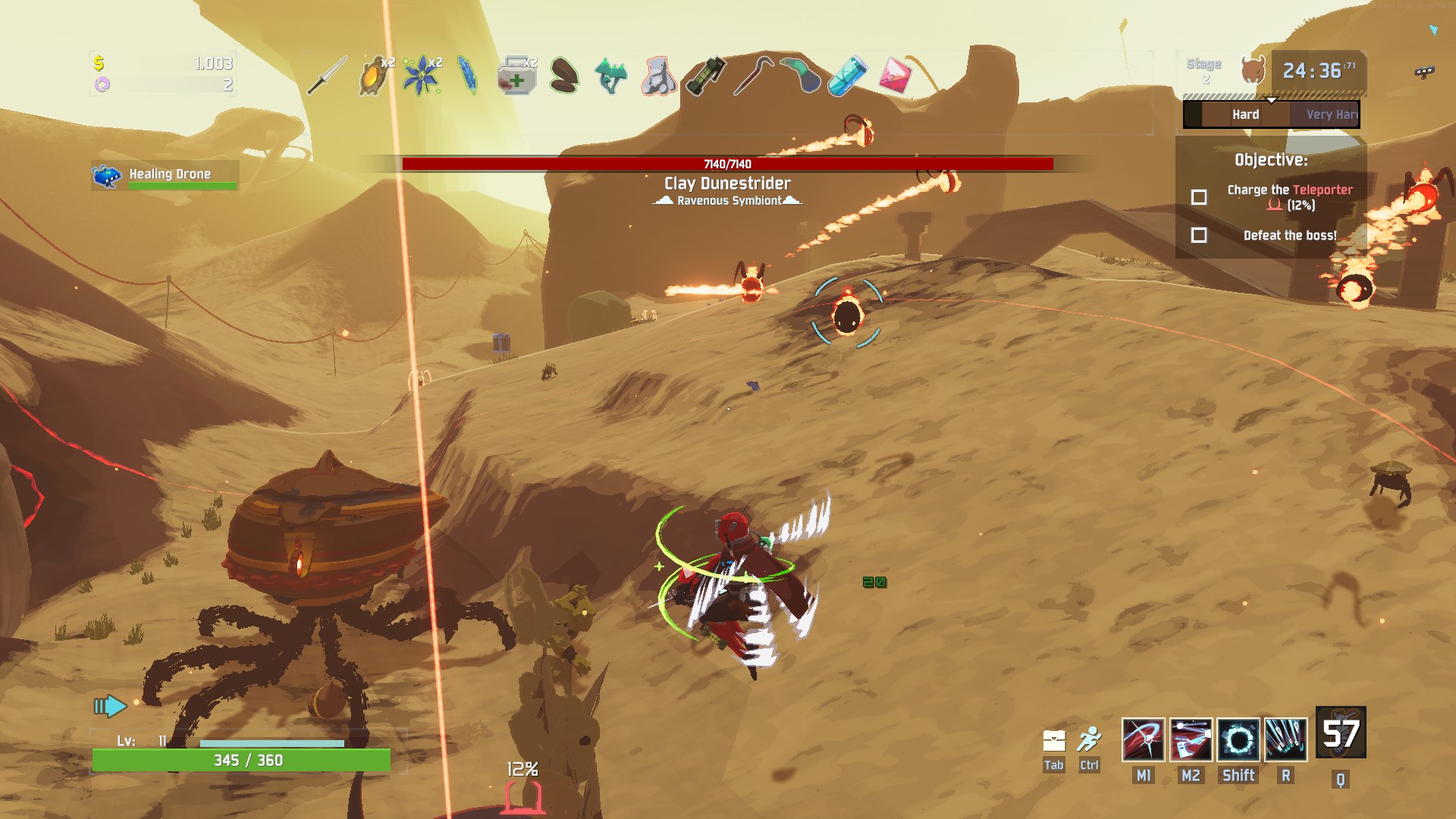 Just like in the first game the soundtrack, made by Chris Christodolou again, is awesome!
It's very Risk-of-Rain-ish and fits the game like a metaphorical glove. It's very space-y and futuristic while also atmospheric and, although it fits the game, it's still all new and doesn't rely too much on the first game's soundtrack. I really enjoyed it. Along with the all new soundtrack, there is also a new style present in the game. Hopoo Games teamed up with Gearbox Publishing (whose dev studio is behind the Borderlands Games) and created an all-new style for this game. It now uses some sort of cell-shading-style that uses the same colour palette as Risk of Rain 1 and therefore remains true to its original colours but still has a new sort of freshness to it that looks quite rad, to say the least. I really like this new style and while I loved the pixel-artstyle of the first game, I can see how it doesn't fit the new Third-Person-view and that this style is still fitting it quite well.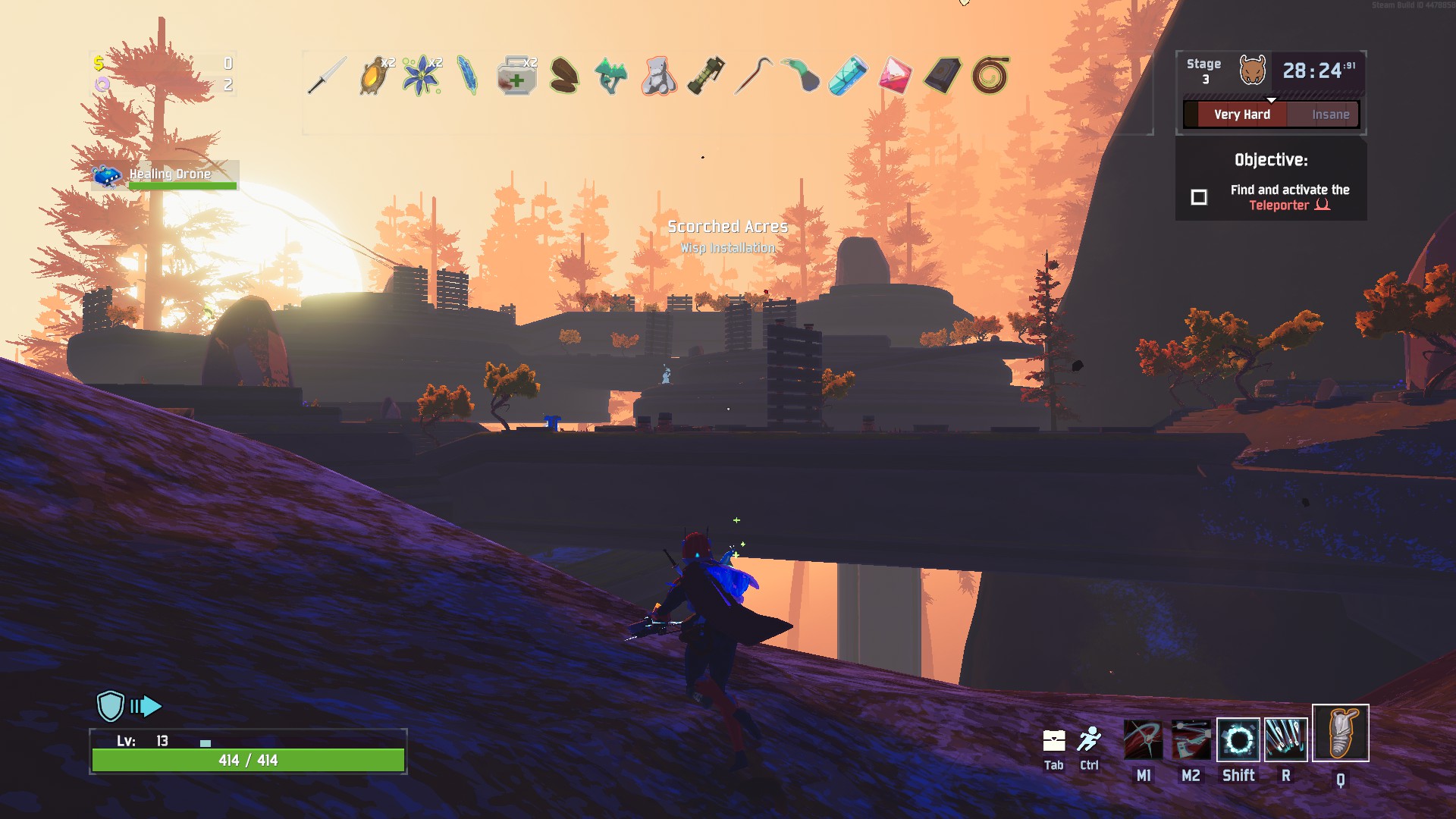 But while I love the Risk of Rain franchise, there certainly are some issues with it.
While Multiplayer has been fixed and is easy to set up, the devs' fear of the MP overshadowing the SP came true and because of that I kind of feel like it's not worth playing the game if you can't play it with friends. Sure, it certainly is challenging and fun while alone… but it's a lot more fun with friends as you can strategize a lot about who takes what items and how you build your characters.
And the other issue I had with the game was the fact that dying in MP means that you need to wait and spectate while your friends clear the level and venture into the next one. Once you're there, you have less items than everyone else and therefore may be struggling more, resulting in a bad experience. I would have liked it if you'd spawn in as a "pet whisp" or some sort of enemy and play as that one for the time-being to either screw with your friends or help them beat the level. The current system really hurts the fun that I had with the game. And then there are the characters.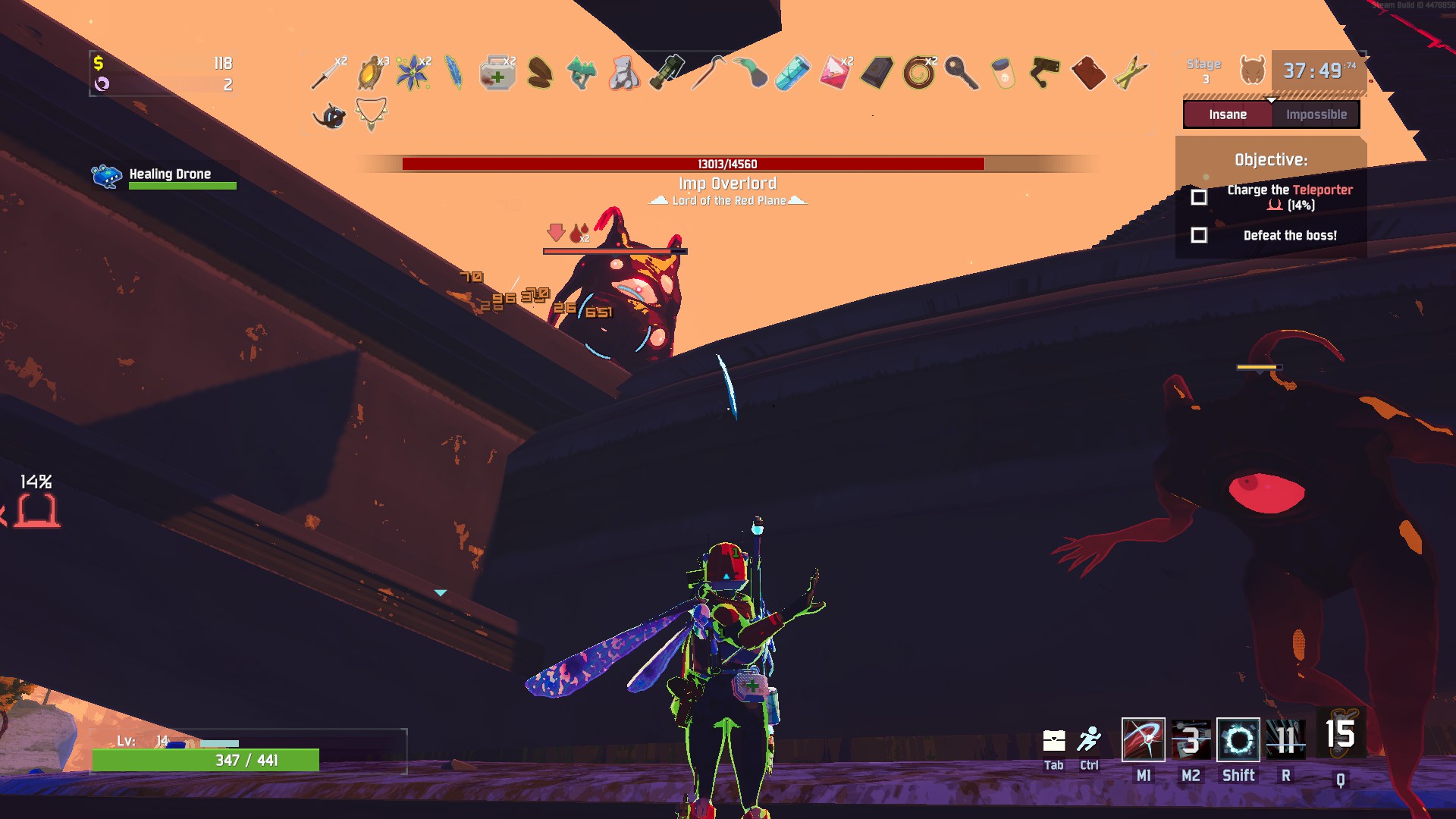 Also, I found some of the unlock-criterias in the first game better than the new ones. But I guess that's just a preference-thing. While I've unlocked a lot of items and new areas of the game, I think it's worth mentioning that I have yet to unlock all of the characters, but since Multiplayer is a lot more fun than playing alone, I've experienced this weird feeling of not being as motivated to play alone as I was with Risk of Rain 1. I still start up occasionally and play a few runs, sure, but it's not as frequent as I would have with RoR1, due to the fact that a lot of my friends don't play it as often anymore. (If you want to play it with me, hit me up!)
And since the maps are so huge, I found it rather hard to keep track of the teleporter. Every biome has a few variants to it and the teleporter can be found in a lot of different locations. Quite often, however, I would have found the teleporter early on but would decide on actually getting more items first and then I'd get lost, resulting in having to find the teleporter again. I'd like it a lot if you could pull out a map (while the game's not paused) to mark stuff on it or if the waypoints set with the middle-mouse-button were permanent, so that you can permanently mark chests and/or the teleporter. That'd be great.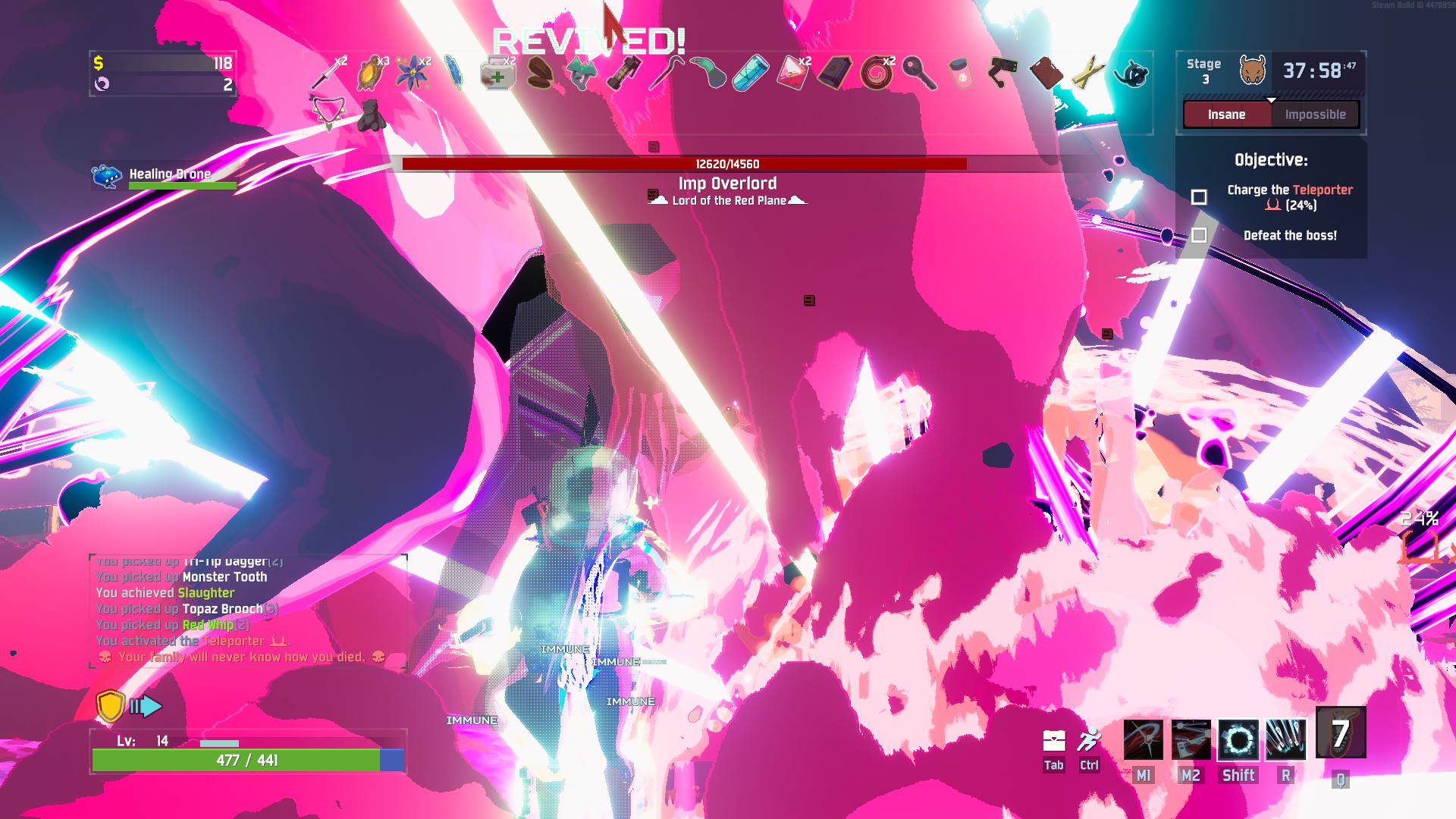 Overall the game has a few flaws but since it's in Early Access it constantly gets updated with a very dedicated dev team and a community that tries to give as much feedback as possible. The community for this game is great, the new additions to the game have been interesting and didn't hurt the game's spirit at all but rather helped it reach new heights! And it's not finished yet. The journey keeps on going, so there's more to be expected in the future!
So, I'd give it a recommendation.
Anyways, I hope you enjoyed this review!
Cheers!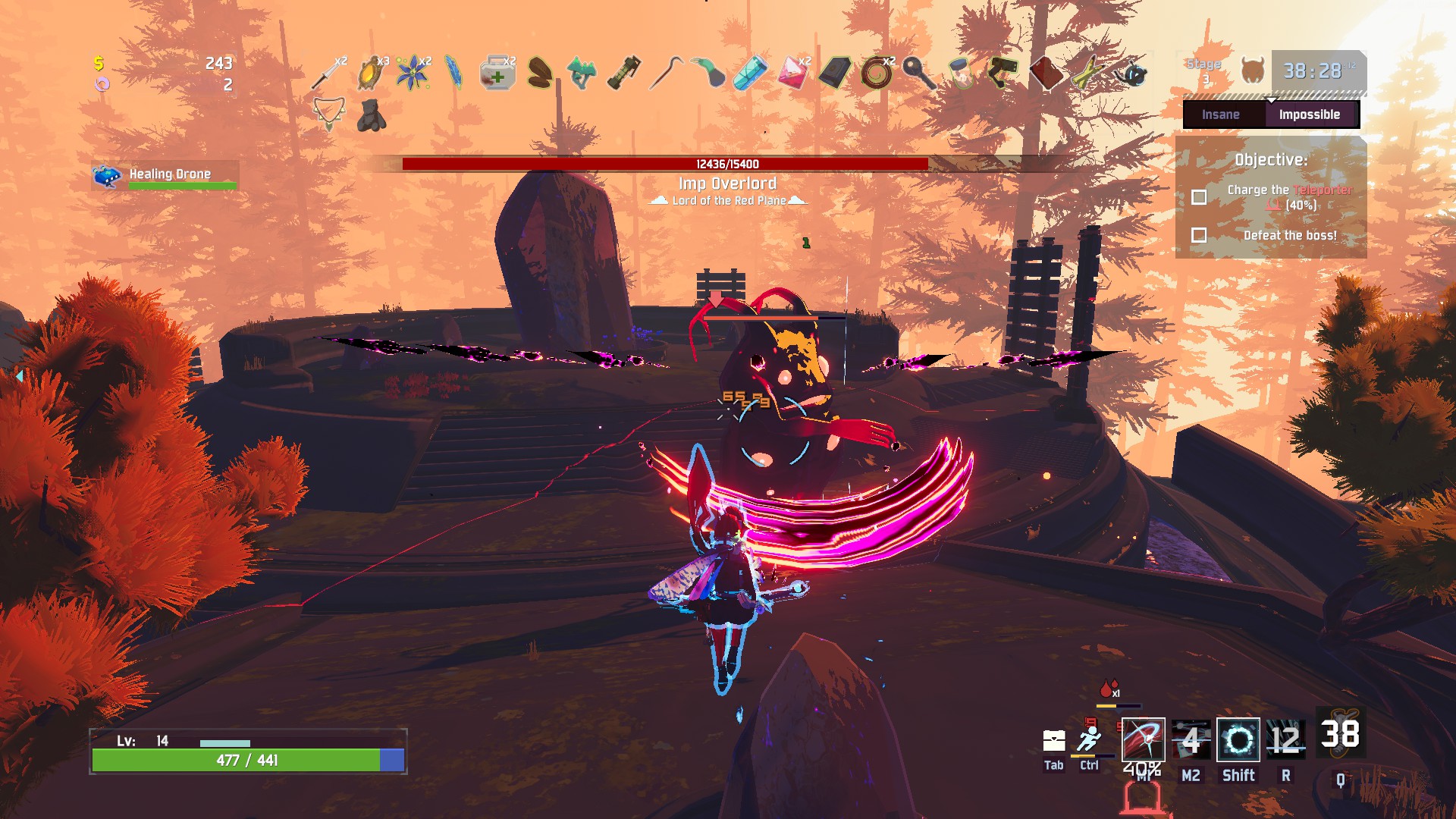 Note: Screenshots were taken from one run. As I didn't want to spoil too much, I only featured these three areas and the blue portal but I can assure you that there's a lot more to see!
This post was first published on Indiecator by Dan Indiecator aka MagiWasTaken. If you like what you see here and want to see more, you can check me out on Twitch and YouTube as well.