So, as mentioned in my last achievement-hunting post, I'm still missing a few mastery achievements, as well as some specific ones for characters like The Loader, The Bandit, and MUL-T. Today, I wanted to talk about how I unlocked Loader: The Thunderdome, which is an interesting achievement that requires you to kill three other Loaders as the Loader. There are a few different ways to do it and while I thought that I needed to have three buddies and Chaos, it wasn't needed at all, after all! The solution to this was simpler but let's first talk about what would work in theory:
You can play with a full lobby of Loaders and enter the code for the Artefact of Chaos into the Bulwark Ambry's Portal, resulting in you activating that artefact for that specific stage – only! Then you kill your three buddies while friendly-fire is on and leave.
You play with only one friend and activate the Artefact of Vengeance into the Bulwark Ambry's Portal.
You play alone and activate the Artefact of Vengeance into the Bulwark Ambry's Portal.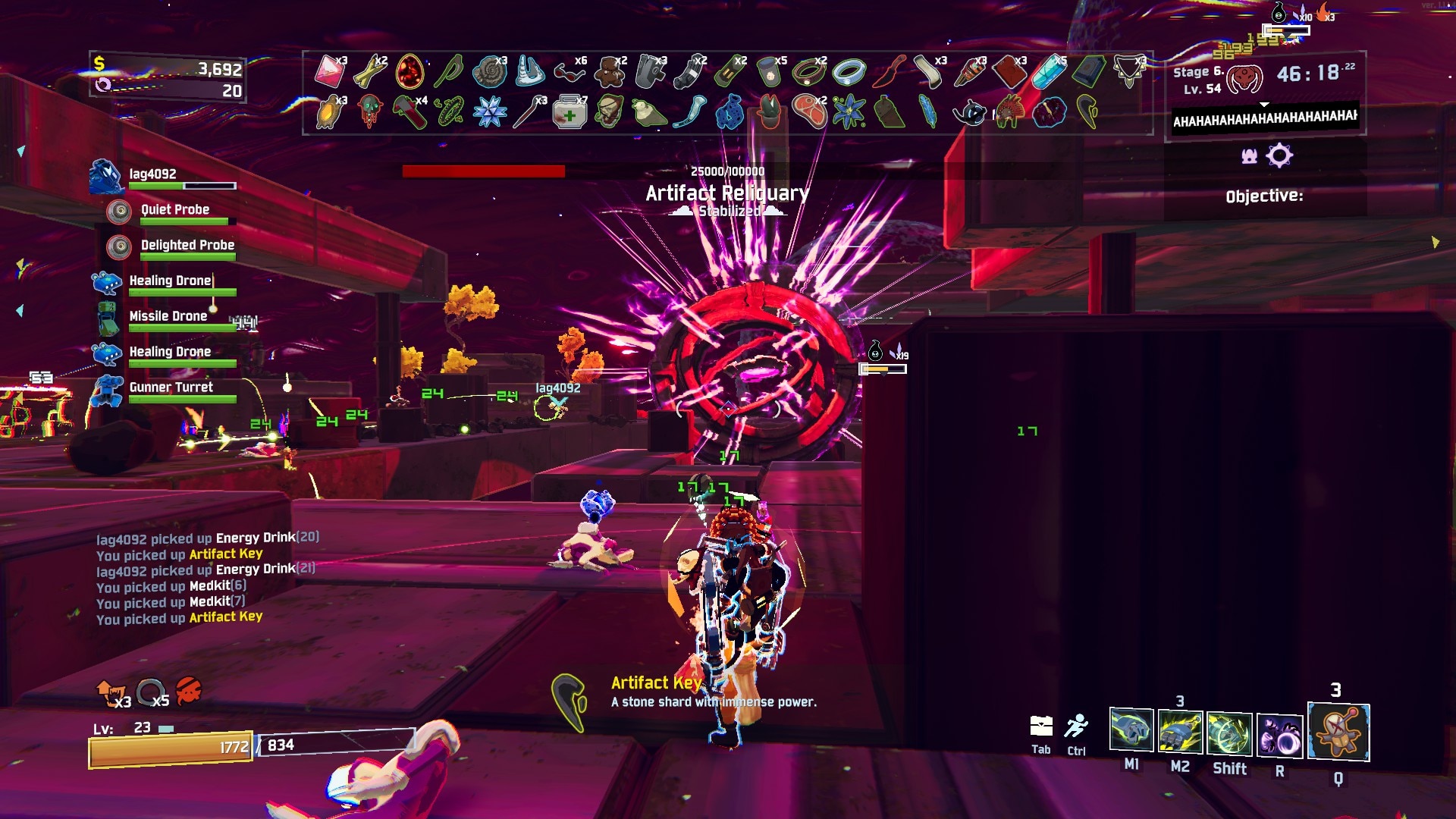 A friend and I did it together but it works alone as well. The reason why it works is that the Artefact that you enter into the Bulwark Ambry's is activated for that secret stage. Chaos makes it kind of hard for you and more people could result in them accidentally killing the Vengeance Umbras, so, I'd honestly recommend doing it solo… but you do whatever suits you best. You can find all the artefact codes right here btw! While Drizzle would work perfectly fine for the unlocks and stuff, my friend (Lag) and I decided to play on Monsoon to also unlock the "Loader: Mastery" achievement for me. As for artefacts, we picked Command (because it's more fun that way) and Vengeance, only to realise that we didn't need Vengeance after all in this… It doesn't matter too much though as the Vengeance ghosts that spawn every ten minutes also drop an item and they aren't too strong usually as they can't charge-punch you or anything like that. Either way, while Lag went for a Low-Cooldown and Burst Build with Purities and Bands, I decided to go for an On-Kill Build using Forgive Me Please. This equipment activates all of your on-kill effects where it lands (for eight seconds with a tick rate of once per second). I also got Soulbound Catalyst, (a few) Gesture(s) of the Drowned, Fuel Cells, and well, lots of on-kill effects including the Ceremonial Daggers, Infusions, Brooches, and that sort of stuff.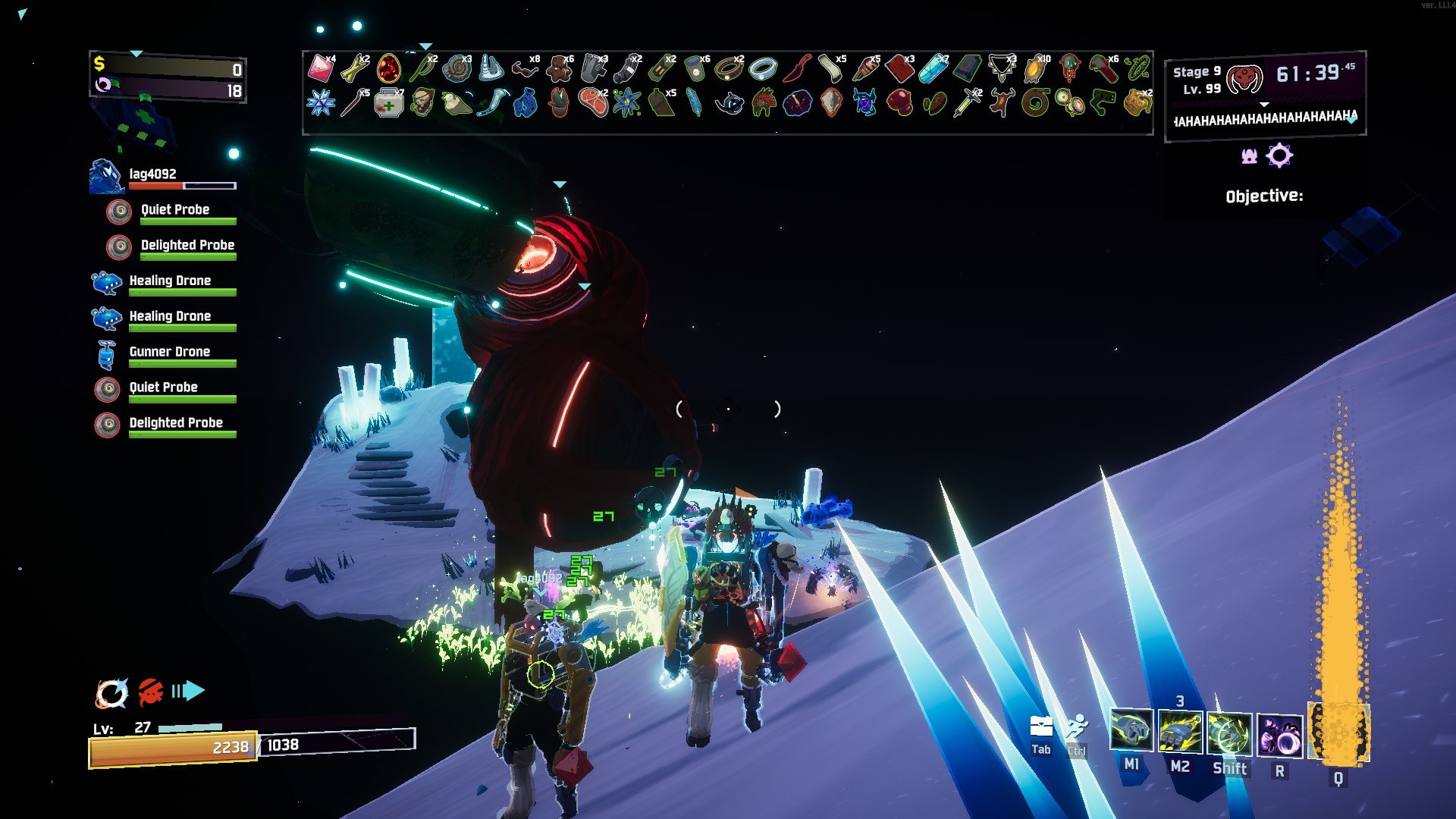 The point is that my build only works when I kill something or when my equipment is used (which at that point was permanent!) while the Umbra, which spawns every ten minutes due to the Artefact of Vengeance, doesn't use On-Kill Effects or Equipment. Hence, they don't get stronger while you're a killing machine. Anyhow, when waves proceed, you get to kill another Umbra in the form of a Loader in the Bulwark Ambry. So far so good. When you kill three of those, you get the achievement. It was easier than I thought! Afterwards, Lag and I just looped once to get the Celestial Portal before obliterating, earning me the Loader: Mastery Achievement, too. This build is honestly one of my favourites in the game as it works with practically every survivor, although there are some changes you can make on some characters… and you can optimise it a little better with others. More brooches, as well as Frost Relic, could work better on Acrid, for starters, who is often in melee range and could benefit greatly from the Frost Aura. The build can get a bit stale though when you end up using it every time as it is just that universal… resulting in pretty much the same experience over and over again with only Void Reavers really being able to kill you. Oh well.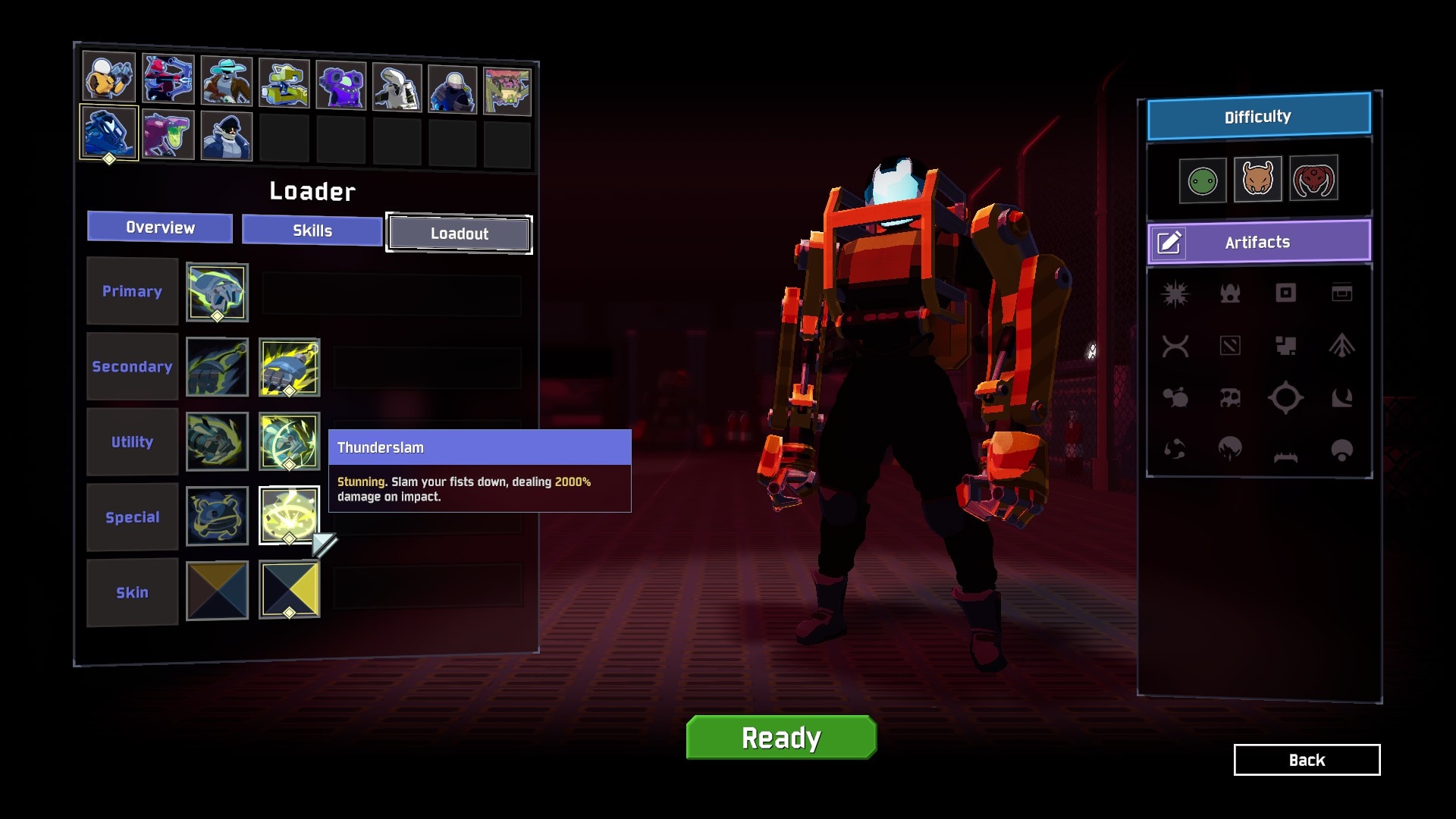 Last but not least, it was interesting to see that only 5.7% of the player have the Loader: The Thunderdome achievement. The ability itself is a stunning slam that deals quite a lot of damage. I like the utility from the Pylon, as well as the ranged damage, but the Slam ability is quite a lot of fun to use so I may switch between the two from now on! The Mastery Skin looks more like the traditional Loader from the first game (see to the right) with her bright yellow colour scheme for the arms, a white and blue helmet, and black pants. What a throwback! Given that this achievement was easier to do than Mercenary: Ethereal, I would have thought that more people would have it but that doesn't seem to be the case. I guess it makes sense that more people have Mercenary: Ethereal due to it being an older ability-unlock and stuff. Either way, I'm only missing the following achievements now:
Acrid: Mastery

"As Acrid, beat the game or obliterate on Monsoon."

Bandit: Mastery

"As Bandit, beat the game or obliterate on Monsoon."

Bandit: Sadist

"As Bandit, kill a monster with 20 stacks of Hemorrhage."

MUL-T: Mastery

"As MUL-T, beat the game or obliterate on Monsoon."

MUL-T: Seventh Day

"As MUL-T, clear the Void Fields on Stage 7 or later."

REX: Mastery

"As REX, beat the game or obliterate on Monsoon."
This means that there are only six more left for me to go through before I got my 100% in Risk of Rain 2 – and I'm looking forward to that. It's a great game after all!
This post was first published on Indiecator by Dan Indiecator aka MagiWasTaken. If you like what you see here and want to see more, you can check me out on Twitch and YouTube as well. If you find this post on a website other than Indiecator.org, please write an e-mail to me. Thank you!